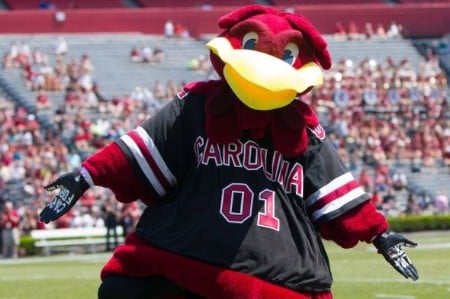 Florida had one of the more impressive offensive outings from the opening weekend of SEC football, which is something rarely said about the team.
Head coach Dan Mullen has had decent success in two years with the Gators en route to a 21-5 record and he's likely hoping for a title game this year. They opened as -18.5 point home favorites against South Carolina with an over/under of 56 at BOVADA Sportsbook.
SC Led 20-17 After 3 Quarters in 2019
When these teams met last year, it was more about the ground games as neither one passed for more than 200 yards. And despite getting outgained 217 to 154 in rushing yards, Florida still managed to win 38-27 on the back of a 21-point fourth quarter.
These teams were about even through three quarters and then Florida quarterback Kyle Trask figured some things out and carved up the SC defense.
That could be the main difference between these teams again because Trask entered Heisman conversations after tossing for 416 yards and six touchdowns in last week's opener.
Trask in 2nd Full Season
Some of that has to do with the Ole Miss defense, but those numbers are impressive no matter the SEC opponent. Trask returns for his second full season as quarterback after throwing for 25 touchdowns last year.
Top wideout Kyle Pitts is expected to receive most of the attention after catching four touchdowns against the Rebels, but the Gators can run the ball, as well.
Dameon Pierce and Malik Davis are set to split carries, but playmaker Kadarius Toney is always a threat and backup quarterback Emory Jones adds another element to the offense when on the field.
Colin Hill Playing Well
As for South Carolina, things are a little less certain despite Colorado State transfer Collin Hill playing well in the opening 31-27 loss to Tennessee. Hill won the starting quarterback gig shortly before that game and threw for 290 yards, but nothing came easy.
For starters, he managed a mediocre 7.4 yards per attempt and the rushing attack combined for just 2.5 yards per carry. Even worse, Hill was sacked four times and threw a pick-six. Top receiver Shi Smith led with 10 receptions and 140 yards, while running back Kevin Harris went for 55 yards.
The question is if the Gamecocks can replicate what they did in last year's meeting by rushing for 217 yards behind minimal quarterback production. If that happens, there's no reason they can't at least stay competitive again, especially after the Gators gave up 13.4 yards per pass attempt and 170 rushing yards against Ole Miss.
Florida may be more talented, but its defense still has some issues and that's what almost led to a late cover for Ole Miss in the first game. That said, this matchup isn't much different and a better, more experienced quarterback makes all the difference.
Trask could be on another level from last season, while Hill comes from Colorado State where he served as mostly a backup. It's a lot of points, but you're either betting on the experienced SEC quarterback or on one who couldn't start in the MWC.
Our Pick
The Gamecocks were beaten by 20+ points 5 times last season. So it's not as if being an 18.5 point underdog to Florida is shocking.
But there may be some line inflation here due to Florida's 51 point explosion last week. Remember, it's just one game.
If you gave South Carolina +18.5 points the last 11 times they played Florida, their record against the spread would have been 10-1.
In fact, over the last 11 years, the Gators hold a slim advantage in the win column, going 6-5 against SC with an average score of 24-20.
So does a 4 point historical average over 11 years become 18+ points in one season? Sure, it can happen. But rarely.
Note that a 4-8 South Carolina team led the Gators 20-17 after 3 quarters last season.
The Gators looked great last week and may be vastly improved over last season, but this South Carolina team is also a notch better than they were a year ago.
We'll take the boatload of points and hope for a much better game than the line suggests this will be.
South Carolina +18.5