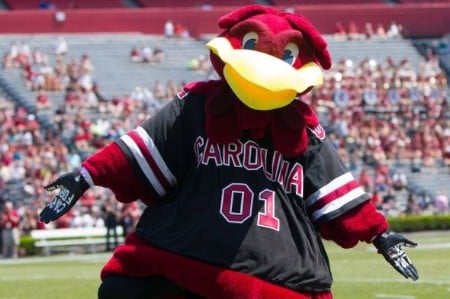 Last year was mostly miserable for South Carolina, ending with a 4-8 record and the first time the team failed to reach a bowl in four years under Will Muschamp. Outside of the weird stretch when the Gamecocks took down Kentucky and Georgia in back-to-back games, nothing really worked for them on either side of the ball.
More struggles are projected with an early preseason over/under of 5.5 wins at 5Dimes to go with +500 to 1 odds to win the National Championship, some of the worst in the SEC.
Mike Bobo Looks to Improve Offense
After scoring just 22.4 points per game, Muschamp turned to Mike Bobo, former Colorado State head coach, to lead the offense. Bobo previously made his mark at Georgia and will look to make his mark again at SC.
The hope is that Bobo can turn Ryan Hilinski into an every-game threat after he managed just 5.8 yards per attempt for 11 touchdowns and five interceptions last year.
While a lack of a full spring could be an issue, Hilinski at least got experience as a freshman. The good news is that four starters return on the line, so there's a base to start improvement even if they struggled to find consistency last year.
The downside is that most of the skill positions are new highlighted by an expected trio at running back between Kevin Harris (179 yards), Deshaun Fenwick (111 yards) and stud freshman MarShawn Lloyd.
It's a similar case at receiver, though Shi Smith (489 yards) should become the top option with Josh Vann hoping to step into the No. 2 spot.
Room for Improvement on Defense
Defense wasn't as big of a problem last year after the Gamecocks allowed less than 400 yards and 26.1 points per game. However, the departure of high-end linemen like Javon Kinlaw is something they'll need to figure out.
While the line has talent (Aaron Sterling, six sacks) and will be a work in progress with a lot of youth, the back end is filtered with options. Six of the team's top eight tacklers return, which says it all.
That starts with linebacker Ernest Jones, but the secondary may be the stronger unit. Do-it-all corner Israel Mukuamu is the stand out of the group, while safeties Jammie Robinson and RJ Roderick are plenty capable.
Plus, with coordinator Travaris Robinson still in charge, the players won't have to learn anything new.
8 Wins Likely
The beginning of this season should go a bit better for South Carolina with a 3-0 start a good bet unless Hilinski isn't the answer at quarterback. Even later home games against Tennessee and Texas A&M are winnable, along with the November contest against Wofford.
If the Gamecocks win the games they're supposed to, that's six wins before looking at possible road upsets against the likes of Kentucky or Vanderbilt.
This year's schedule is a lot more favorable and returning to a bowl should be in sight unless something goes wrong. Hilinksi should post better numbers with a new coordinator and solid line, while the back end on the defense will keep that group formidable.
2020 South Carolina Gamecocks Schedule
Sept. 5 vs. Coastal Carolina
Sept. 12 vs. East Carolina
Sept. 19 vs. Missouri
Sept. 26 at Kentucky
Oct. 3 at Florida
Oct. 10 vs. Tennessee
Oct. 24 vs. Texas A&M
Oct. 31 at Vanderbilt
Nov. 7 vs. Georgia
Nov. 14 at LSU
Nov. 21 vs. Wofford
Nov. 28 at Clemson