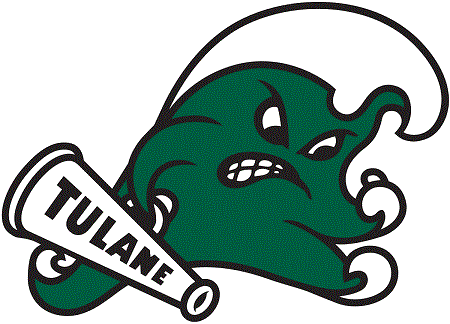 Tulane won its second-straight bowl game last season in head coach Willie Fritz's four year in charge. The Green Wave maybe aren't winning AAC titles, but they've been competitive and that's saying something after one conference win four seasons ago.
Unfortunately, they're expected to take a step back with a new quarterback, opening with an over/under of 5.5 wins with +4000 odds to win the AAC.
Quarterback will likely decide what happens with Tulane this season after the departure of Justin McMillan. Southern Miss transfer Keon Howard is the projected starter, but he couldn't hold down a job at his previous school.
If it's not him, it could be another transfer or a freshman. The hope is that the skill players around the quarterback can get the offense near last year's 449.3 yards and 33.1 points per game. The line should be fine with three starters returning, but it's the skill players that bring the excitement.
Running back is loaded with talent and the rushing ability of Howard could help after McMillan ran for 745 yards and 12 touchdowns last season. Corey Dauphine (575 yards, 7 TDs) is the projected starter, but Amare Jones (371 yards, 4 TDs) and Tyjae Spears should also get plenty of work.
Receiver is a bit fresh, but they aren't too worried with sophomore Jha'Quan Jackson stepping into a bigger role alongside Oklahoma transfer Mykel Jones. If quarterback works out, this offense should pop again.
The defense could provide a bit more consistency after falling apart against better teams in the second half of last year. This group was still solid overall, allowing 378.5 yards and 27.4 points per game.
Consistency is possible because of the returning talent up front led by seniors Cameron Sample and De'Andre Williams. The line may have been the weakness last season, but it could thrive in 2020.
Of course, outside linebacker Patrick Johnson is the best playmaker and should improve his totals after playing through a torn labrum most of last year.
There are some new pieces on the back end, but corner Jaylon Monroe and Chase Kuerschen bring seniority to a unit that gave up just 214 passing yards per game.
Even with the bowl win last year, Tulane was projected to do better than a 7-6 record. One year later and expectations are just to make a bowl, at least according to oddsmakers.
The non-conference schedule doesn't help with trips to Northwestern and Mississippi State standing out, though that's not much different than last year's game against Auburn. The AAC schedule could be better, but as long as they get two non-conference wins, another four conference wins is in the cards.
The talent is there to get to another bowl, but betting on the over requires betting on a new quarterback who may have trouble completing passes. Sometimes that works, but sometimes things take a turn for the worse when there's a problem under center.
2020 Tulane Green Wave Schedule
Sept. 3 vs. SE Louisiana
Sept. 12 at Northwestern
Sept. 19 vs. Navy
Sept. 26 at Mississippi State
Oct. 8 at Houston
Oct. 17 vs. SMU
Oct. 24 at UCF
Oct. 31 vs. Temple
Nov. 7 at East Carolina
Nov. 14 vs. Army
Nov. 21 at Tulsa
Nov. 28 vs. Memphis