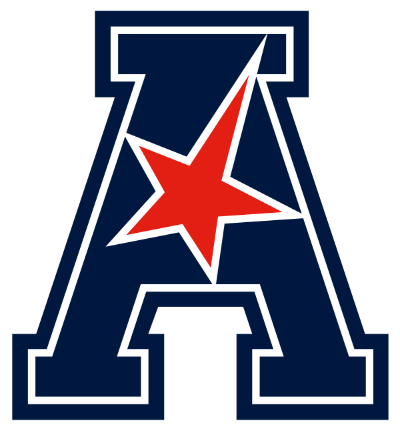 American Athletic Conference
2021 College Football Preview
Cincinnati has taken over UCF as the team to beat in the American Athletic Conference the last couple seasons and 2021 is no different.
The Bearcats are thought to have a sizable edge over everyone else in the conference with -200 odds to win the title at some books. That's likely because they've lost one regular-season conference game the last two seasons and won the title over Tulsa last year. 
Of course, this is the AAC and even though Cincinnati brings back a lot of its starters, that doesn't mean upsets aren't possible. They beat Tulsa by just three points in the title game and any of the other top teams could knock them off in this year's Championship.
Cincinnati
Last season: 9-1, 6-0 in AAC
There will be bets on other teams to win the conference, but there aren't many reasons to bet against the Bearcats. Quarterback Desmond Ridder is back for his fourth season as starter after producing a career-best 8.2 yards per pass last year.
They lost a couple guys on the line, but it's not a major worry, while Jerome Ford (6.6 yards per carry) takes over at running back and tight end Josh Whyle could remain the top receiver. They averaged close to 40 points per game last year and while there may be some questions, Ridder has never had a ton of issues carving up the AAC.
The Bearcats lost a couple pieces on the defensive end, but this is still a deep group that allowed less than 20 points per game last year. End Myjai Sanders is a monster up front and the secondary is filtered with NFL talent.
This team has the College Football Playoff in its sights and while the early schedule is rough (trips to Indiana and Notre Dame, and home against UCF), they have enough returning players that it shouldn't be an issue.
UCF
Last season: 6-4, 5-3 in AAC
The Knights fell off last season, but they added head coach Gus Malzahn from Auburn and that'll likely lead to a lot of title bets as a +400 underdog to win the conference.
Malzahn added a lot of pieces in the transfer portal, but quarterback Dillon Gabriel is still there after tossing 32 touchdowns and four interceptions last year along with wide receiver Jaylon Robinson. The offense will be fine, there's no reason to doubt them after averaging more than 40 points per game.
The question is on the defensive end, which is the main reason Cincinnati beat UCF 36-33 last year. Clearly, improvement has to be made after allowing more than 30 points per game and transfers will help, but they're not going to be at the same level as Cincy.
The hope is that this group gets to average levels if not above average, and if that happens, it may be enough with the high-powered offense. Then again, they travel to Cincinnati this season, so that's another issue with trying to win the conference.
The Rest
Memphis, Tulsa and Houston are all kind of at the same level, sitting around +900 and +1000 odds to win the conference. Unfortunately, none of them probably have enough to overtake Cincy or UCF in the title game.
The Golden Hurricane lost a lot of their defensive talent, which was the main reason for last year's success, and while their offense could be just as good, that may not matter.
The Cougars are probably in the best shape under head coach Dana Holgorsen, mainly because of quarterback Clayton Tune and new defensive coordinator Doug Belk. While they should improve, it's hard to see them going from a 3-5 overall team to winning the conference.
The Tigers are kind of in the opposite mold in that they were good last year at 8-3, but they lost their stud quarterback.
While it's possible the defense improves and the offense gets something out of a new quarterback, it's just hard to bet on that when Cincinnati returns Ridder and UCF gets back Gabriel. The winner of this conference will likely have an experienced quarterback at the helm and if you want a long shot, Houston kind of fits that mold.