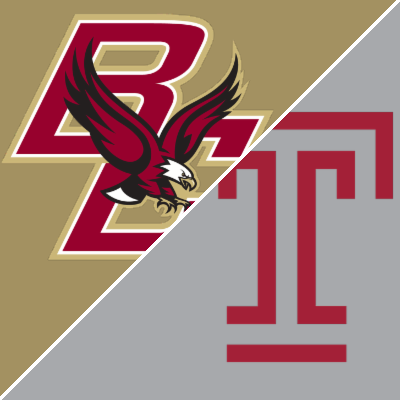 Boston College at Temple
Temple will host Boston College on Saturday September 18th. The game kicks off at 12 PM EST and can be seen on ESPNU. Boston College opened as a -17 point road favorite which has since been bet down to -15.5. The total is 58.
Below you will find matchup stats and dats along with a score prediction at the very end.
head-to-head history (lined games):
  
 9/29/2018  Temple                   35  +13.0  at Boston College           45
11/20/2004  Boston College           34  -14.5  at Temple                   17
10/11/2003  Boston College           38  - 7.5  at Temple                   13
11/23/2002  Boston College           36  - 9.5  at Temple                   14
10/ 6/2001  Temple                   10  +11.0  at Boston College           33
11/ 4/2000  Temple                    3  + 9.5  at Boston College           31
10/ 9/1999  Boston College           14  -14.0  at Temple                   24
 9/19/1998  Temple                    7  +18.0  at Boston College           31
 9/ 6/1997  Boston College           21  -12.0  at Temple                   28
11/16/1996  Temple                   20  +10.5  at Boston College           21
11/ 4/1995  Boston College           10  -10.0  at Temple                    9
10/15/1994  Temple                   28  +28.0  at Boston College           45
 9/25/1993  Temple                   14  +30.0  at Boston College           66
10/31/1992  Temple                    6  +28.0  at Boston College           45
11/ 9/1991  Boston College           33  - 6.5  at Temple                   13
11/24/1990  Temple                   29  + 2.0  at Boston College           10
  
   average outcome:
     Boston College          32.1  Temple                  16.9
     margin = -15.19
  
   time-weighted average outcome:
     Boston College          42.6  Temple                  31.6
     margin = -10.98
  
   average result when the home team is Temple                 
     Boston College          26.6  Temple                  16.9
     margin =  -9.71
  
   average result when the home team is Boston College         
     Temple                  16.9  Boston College          36.3
     margin =  19.44
  
    75.00 % of games went Over
   100.00 % went Over at Temple                 
    (since        2001 )
  
   average total points per game =  48.94
   time-weighted average total   =  74.15
  
   the home team covered  50.00 % of the time
   the road team covered  50.00 % of the time
   Ave ATS differential =  1.94
  
   the favorite  covered  56.25 % of the time
   the underdog  covered  43.75 % of the time
   Ave ATS differential =  1.19
  
   the favorite won SU    81.25 % of the time
  
   Boston College          covered  56.25 % of the time
   Temple                  covered  43.75 % of the time
  
   Temple                  covered  42.86 % of the time at home
   Temple                  covered  42.86 % of the time as home underdogs
9/11  Temple                   45  at  Akron                        24    OV  52.5
    9/ 4  Temple                   14  at  Rutgers                  61    OV  52.0
  
   ***
  
    9/11  Boston College           45  at  Massachusetts            28    OV  57.0
    9/ 4  Colgate                   0  at  Boston College           51    UN  56.0


Prediction

Boston College           -16.0          44           
Temple                    59.5          20