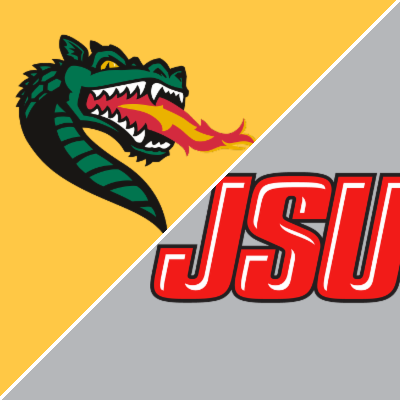 UAB will play Jackson State tonight at a neutral site in a game that kicks off at 7:30 pm est. UAB is a -17 point favorite with a current posted total of 51.5. Those odds are currently available at BetUS.
Any time you have an up and coming FCS team taking on a FBS opponent, it can be a dangerous game for the FBS team.
UAB was 6-3 last year and capped off the year by beating Marshall to win their 2nd Conference USA Championship in 3 years. Their biggest step up in class was a 31-14 loss to the Miami Hurricanes.
Jacksonville State was 10-3 last year and made it to the FCS quarter finals where they lost to Delaware 20-14.
Jacksonville State Hung With Florida State
Most college football fans wouldn't recognize most of the teams on the Jacksonville State FCS schedule. Unless perhaps, you're also a hardcore college hoops fan. But one name you would recognize from last season is Florida State.
Now, Florida State may be down a notch or two, but it's still Florida State. The athletes they recruit are simply better than the caliber of player Jacksonville State typically gets. Bigger, stronger, faster.
We mention this because in their 1st game last year, Jacksonville State played FSU tough. They ended up losing 41-24. however, they led 14-0 after the 1st quarter and 21-14 at halftime. In the end, Florida State was just too deep.
Here in this spot, we have FCS Jacksonville State getting the opportunity to show their stuff on national TV with the football world watching. While UAB may end up pulling away in the end, you can be sure Jacksonville State will be pumped and competitive early on.
This looks like a great spot to back the FCS team in the 1st quarter and 1st half to take advantage of that early emotion. We'll split our wager into 3 equal bets.
1* Jacksonville State +3.5 +100 for the 1st quarter
1* Jacksonville State +7.5 +101 for the 1st half
1* Jacksonville State +17 for the game