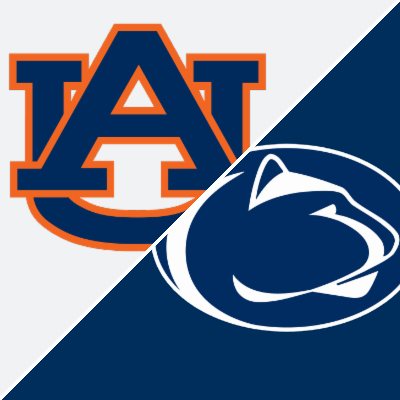 Auburn at Penn State
This matchup should tell us a lot about the SEC and Big Ten. Both Auburn and Penn State are ranked and expected to fight with the best teams in their respective conferences. Playing at home, the Nittany Lions get a slight boost in the odds at -5 with an over/under of 53.
Despite two 60-point performances, it's hard to take much away from Auburn's first two games. One was against Alabama State and the other was against Akron, which lost to Temple by 20 points in their other game.
Most of the analysis has to go back to last season when they finished 6-4 in the SEC and lost 35-19 to Northwestern in the Citrus Bowl. The main thing is that they didn't really show up against better teams. They scored six points against Georgia, 13 against Alabama and lost 31-20 to Texas A&M.
Penn State may not be on the same level as the top SEC teams, but they're probably as good as Northwestern was last season. The Nittany Lions should be better than last season, but no one thinks they'll win the Big Ten despite already beating Wisconsin. They have a solid defense and decent offense, and both will get tested in this game.
Is Clifford Up to the Task?
The worry for fans all season may be the performance of quarterback Sean Clifford. He's done just enough through two games averaging 7.7 yards per pass for two touchdowns and no picks, while adding 71 yards on the ground.
As long as he keeps the ball safe and finds top wideout Jahan Dotson, this offense should score against mediocre defenses. Noah Cain has been fine out of the backfield, as well, but he's not Saquon Barkley just yet. 
It's hard to look at Auburn's numbers because of two free wins and that new head coach Bryan Harsin is in his first year from Boise State. Going back to last season, Auburn gave up 163 rushing yards and 24.7 points per game, though all but one of those games came in the SEC.
No matter how improved the Tigers are, Penn State will need to score. They dropped 44 points against a decent Ball State team and will probably have to reach around 30 to cover this matchup.
Auburn Offense Still a Mystery
That said, there are still unknowns about Bo Nix and Auburn's offense. This is no longer a Gus Malzahn team and the offense hasn't shown its true colors just yet. Nix probably isn't as good as the first two games have shown, but even then he went just 9-for-17 for 108 yards against Alabama State, so he hasn't been overly impressive.
The bigger matchup may be Penn State's rush defense against Auburn's rushing attack. So far, Tank Bigsby and Jarquez Hunter have been awesome, both over 240 rushing yards and 10 yards per carry. Obviously, those numbers will drop. 
The Lions are decent up front and while Wisconsin totaled 180 yards on the ground, their top running back was at just 3.9 yards per carry. If PSU's run defense can do the same in this matchup, that'd be a huge boost.
This is a big game for Penn State and they'll be amped up to get a win under the lights. Their offense may not have the explosiveness to cover bigger spreads, but the defense could be what separates these teams and gets the cover for the home team. It's hard to bet on either of these quarterbacks, but not many will want to bet on Bo Nix on the road.
Penn State -4.5