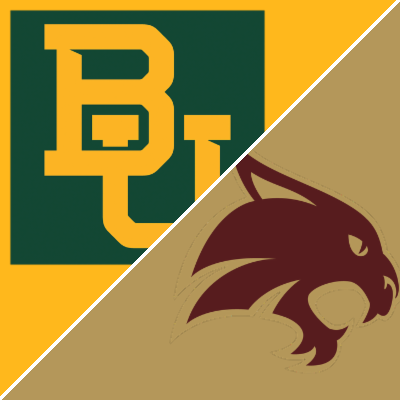 Baylor at Texas State
Texas State will host Baylor on Saturday, September 4th for the 1st time ever. Baylor is a -14 point road favorite with a current posted total of 53.5.
Baylor actually opened as a -10 point favorite back in June. That was at betonline sportsbook, always one of the first sportsbooks to post a number every week.
Both teams are off losing seasons. For Texas State, it was pretty much par for the course. They went 2-10. If you glance back over the last 6 years for them, you'll notice that they either won 2 or 3 games each year.
Texas State had a few close games last season that could suggest they can compete here. They had close games with SMU, Boston College and Georgia Southern for example.
Texas State Blown Out By BYU 
On the flip side, their doors were blown off by both BYU and Coastal Carolina. But they do return a lot of experience and all signs point towards Texas State improving that 2 to 3 win total this season.
Baylor is in off of a 2-7 season. The Bears once fit into the category of teams that routinely had 2 and 3 win seasons. But starting in 2010, Baylor started winning. Since that time they have had several 10 and 11 win seasons. In fact, they won 11 as recently as 2019.
2020 was the first year at Baylor for head coach Dave Aranda. When you factor in a new coaching staff and COVID, you can cut the team some slack for 2020.
Still, they were competitive last year. They only lost to Oklahoma 27-14. They lost to Iowa State 38-31. Three of their losses were by a TD or less.
When you win for a decade the way Baylor has, it enables you to recruit top talent. The difference in this game should be that talent. Expect a fired up Texas State team to compete here initially, but Baylor should be able to extend the margin late.
Baylor -14