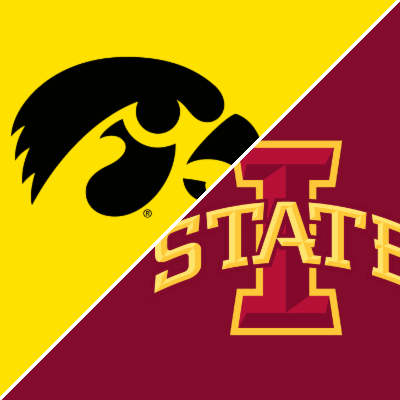 The battle for Iowa isn't usually a top-10 game, but that's what this weekend presents. Iowa may have had the most impressive win of opening weekend, while Iowa State did not look like a national title contender as expected to be. Still, playing at home, the Cyclones were a -4.5 point favorite with an over/under of 46.
That spread is interesting not only because of the opening games but also because Iowa has won the last five meetings. They didn't play last season but having a five-game winning streak has to mean something.
Cyclone fans are still fairly confident and are looking back to last season when they completely flopped in their opener, losing 31-14 to Louisiana. They followed that up by beating Oklahoma a couple weeks later.
Cyclones Better Than 2020?
Given the team's returning talent, it wouldn't be surprising if the same thing happened again. The Cyclones may have the best all-around team of Matt Campbell's tenure and that first game can be chalked up to a slow start. At their peak last season, Iowa State scored on everyone, averaging 32.9 points per game. 
Maybe quarterback Brock Purdy and running back Breece Hall lost some Heisman buzz after the opener, but they are still two of the best in the country at their respective positions.
Purdy's in his fourth year as the team's starter and Hall is coming off a 1,500-yard season. The worry is that Hall may again struggle to find holes after averaging 3.0 yards per carry in the opener.
If that happens again, it'll be up to Purdy and top receiver Xavier Hutchinson to make things happen, which isn't a bad thing. Still, Iowa's defense is better than Northern Iowa's and could be one of the best in the country.
Hawkeyes Stuffed Indiana
The Hawkeyes dismantled anything Indiana did last weekend, allowing just 233 total yards and six points against what was thought to be a decent team. Iowa State is a bit more experienced but if they don't look better than the opener, they could have problems putting points on the board.
On the other end, Iowa probably won't reach 34 points again after two of their touchdowns were pick-sixes against Indiana. In total, the Hawkeyes weren't much better offensively, as new quarterback Spencer Petras averaged just 5.4 yards per attempt and outside of a 56-yard run, they averaged 2.9 yards per carry with sacks included.
Iowa to Rely on "D" and Running Game
Tyler Goodson and Ivory Kelly-Martin are a good one-two punch at running back behind a solid offensive line, but questionable quarterback play could be an issue all season. Unsurprisingly, they'll likely lean on their defense and the running game in most matchups.
Looking at last week, there will be a lot of people who jump on Iowa and think the same thing will happen.
However, the leadership and experience of Purdy at home will be hard to overcome, especially if Petras has similar struggles in this game. Both teams will struggle to score, hence the low over/under, meaning a game decided by three points to either side is more than possible.
Iowa St -4