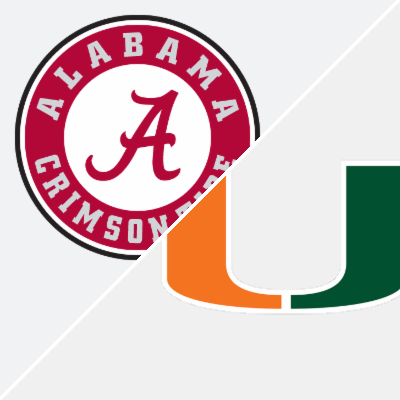 College football is back which means Alabama is again ranked the No. 1 team in the preseason polls, the fourth time that's happened in the past six seasons. The Crimson Tide may get a fight in the opener, but they were still early -18.5 point favorites with an over/under of 65 for the game at Mercedes-Benz Stadium in Atlanta.
Easy Credit Card Deposits at BetUS!
There aren't a ton of reasons to bet against Alabama and Nick Saban. While they only beat Missouri 38-19 in last year's opener, the Tide smashed all of their prior non-conference openers.
They beat Duke 42-3, Louisville 51-14, Florida State 24-7 and of course USC 52-6 in 2016. The list goes on and while Miami is ranked, no one thinks this game will be competitive.
Can the Miami Defense Keep Up?
The first issue is that Miami's defense probably won't keep up. Its secondary could be great, but it could also get blown up in the trenches. Most worrying for the Hurricanes is that they struggled against any relevant competition last season, allowing 42 points to Clemson, 41 to NC State and 62 to UNC.
Alabama has a new quarterback, but that's not expected to be an issue in this game. Bryce Young is expected to come in and be dominant, which wouldn't be surprising. He's surrounded by a stout offensive line, top wideout John Metchie, running back Brian Robinson and the variety of other five-star recruits looking for more time.
Even if Young doesn't come out and throw for 300 yards in the opener, there's still a chance Alabama runs for 200 or 300 yards and drops 40-plus points.
D'Eriq King Returns from Torn ACL
The best chance for Miami may be to keep up on the scoreboard. The problem is that D'Eriq King is returning from a torn ACL and probably won't immediately be the same player he was last season.
In total, he threw 23 touchdowns with five picks while running for 538 yards and four more touchdowns. He's electric when needed, but there were times when he was bottled up last season and a torn ACL isn't going to help. There's a slight chance freshman Tyler Van Dyke starts the opener, which may be more problemsome for Miami.
Otherwise, the skill players are fairly set for Miami with running back Cam'Ron Harris still there with Oklahoma transfer Charleston Rambo adding to the receiving corps.
All of that's nice, but the offensive line was an issue against better teams last season and Alabama probably has one of the best linebacking corps in the country.
New Faces For Tide – So What!
The Tide have some new faces, but their defense is annually one of the best and either playing against a freshman or a run-heavy quarterback off a torn ACL could prove beneficial. 
This is a neutral game, but that usually doesn't mean much when Alabama is involved. There's a chance the Tide dominate on both sides of the ball and open things up early with a double-digit lead more than possible in the first quarter.
The hope for Miami is that King feels good and can stay competitive on the scoreboard. Still, that means you're betting on a quarterback in his first game following a torn ACL against Alabama.
Bettorsworld's Pick
It's not all that difficult to make a case for the Hurricanes. They were 8-3 a year ago and had respectable numbers. They are loaded with talent as everyone returns and if D'Eriq King is 100%, Miami deserves respect.
The first game of the year is the best time to catch a power house like Alabama sleeping. A very good case could be made for betting on Miami in the 1st quarter and 1st half.
But this has to be an Alabama call as far as the full game goes. Miami had two chances to really shine last year. One was when they took on Clemson. The other was in their Bowl game against North Carolina.
The end result of both of those games was a 42-17 loss to Clemson and a 62-26 loss to North Carolina.
Alabama blows teams out for a living. Our Model has Alabama by 23 to 36 points (depending on parameters used).
1* Miami + for the 1st quarter
2* Alabama – 18.5 for the game