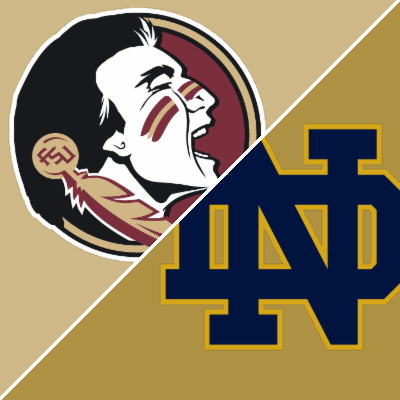 Notre Dame at Florida State
This is an intriguing matchup because of the schools involved, but Florida State hasn't been good at football in a few years.
The Seminoles went 3-6 last season and while they added a bunch of transfers, there are still a lot of doubts entering Mike Norvell's second season as head coach.
Notre Dame was an early -7.5 point favorite at betonline with an over/under of 56 points for the game in Tallahassee.
FSU Led 17-14 in 1st Quarter Last Year
FSU was actually competitive in the first quarter of last year's matchup, going ahead 17-14. However, things quickly turned sour and Notre Dame won 42-26. FSU still had a decent amount of offensive success in that game given how last year went as a whole, but Notre Dame ran for 353 yards and that was it.
The Fighting Irish believe they have another team that can contend for the national title, but they have a lot of pieces to replace, namely at quarterback and the offensive line.
Wisconsin transfer Jack Coan is their hope but despite averaging a solid eight yards per pass in 2019 as a starter, he's still not an elite option. And if the line takes a step back, that could make things more difficult for running back Kyren Williams. 
FSU Defense Was Terrible
That being the case, FSU's defense was terrible last season, so there's a chance the Irish again dominate the line of scrimmage and aren't stopped. FSU gets back its linebackers, but this still isn't a group that's expected to be near the top of the standings in the ACC.
If the 'Noles want to contend, it'll be up to the offense to put points on the board, something that didn't always happen last season. UCF transfer McKenzie Milton brings some hype, but he's returning from an ugly leg injury and probably isn't ready to go all out.
In that case, Jordan Travis is the expected backup after totaling six touchdowns and six picks with a 55.0% completion rate last season. Running back Jashaun Corbin is expected to take up a bigger role after leading the backs with 401 rushing yards and five touchdowns, and the same goes for tip wideout Ontaria Wilson.
FSU Brought in Transfers
FSU brought in some transfers, but there still isn't much that stands out from this group. They have a lot of questions and it wouldn't be surprising if they struggled to reach 20 points and again lost by double digits.
That said, the Irish have a new defensive coordinator, so that's at least one thing going in FSU's favor.
The Irish will be fine, as they're using the same scheme, but in the opening game, there's a chance this unit drops off after allowing less than 20 points per game last season.
Notre Dame is the better team, but Florida State will have a packed stadium for the season opener and there is a thought that a slew of transfers will help across the board.
However, if nothing has changed, the Irish could win in the trenches on both sides of the ball and that would destroy any hope FSU had of staying competitive.
Notre Dame -7