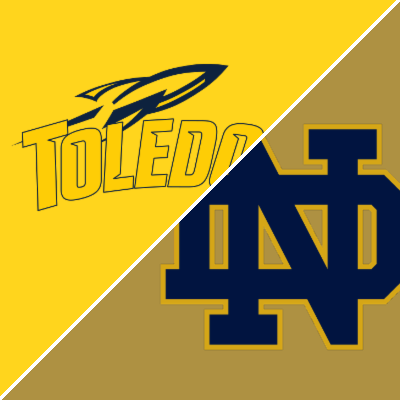 Toledo at Notre Dame
The Notre Dame Fighting Irish welcome the Toledo Rockets to South Bend on Saturday, September 11th. The game kicks off at 2:30 PM EST and can only be seen on Peacock.
The Irish opened as -18.5 point favorites but the early action has knocked that number down to -17. The total is 56.
MyBookie offers one of the best NFL contests online – Sign Up Here!
Last week in their opener against Florida State, Notre Dame had some troubles. The score was 17-14 at the half but then the Irish opened up a 38-20 lead in the 3rd quarter. But they couldn't hold on and allowed FSU to score 18 unanswered points and take the game into OT where the Irish ended up on top by 3.
Irish Running Game Needs to Improve
Giving up big plays defensively and an inability to run the ball hurt Notre Dame. A year ago the Irish ran for 353 yards against Florida State. This time around they ran for just 65!
Toledo was 4-2 last season in what was a mediocre year. They lost to the two best teams they played and weren't impressive in the others. They opened up last week with a 49-10 win over Norfolk State.
We get the line move here in favor of Toledo. Notre Dame's collapse, blowing an 18 point lead raises questions. Bettors also know Toledo has been known to put points on the board, albeit in the MAC.
Notre Dame coach Brian Kelly also promised to get the running game going this week. Here's a quote. "We got to run the ball better," Kelly said. "Clearly that will be an emphasis here this week. We're not here to throw the ball all over the yard and not have a solid running game."
Back Door is Open….But
So, lot's of running, a potentially questionable defense, bettors think that back door is open here for a Toledo cover. Heck, one of our own model's predictions for this game has Notre Dame winning by just 12.
But we think the Irish roll here. The talent gap between the two programs is huge. The Irish have only played 3 MAC teams ever. Ball State and Miami Ohio in 2018 and 2017 and western Michigan back in 2010. The Irish won all 3, 24-16, 52-17 and 44-20.
The thrill of playing at Notre Dame, the emotion alone, probably keeps this game close in the 1st quarter for those looking for an angle. But expect the opposite of last week in the 2nd half here as the Irish pull ahead and stay ahead.
Notre Dame -17