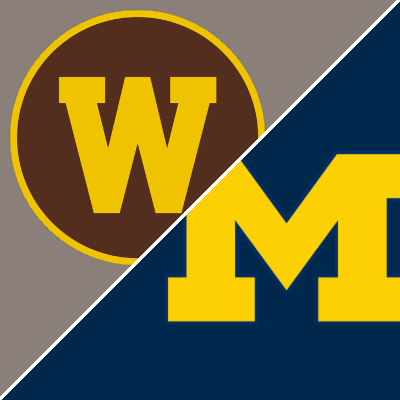 Western Michigan vs. Michigan
Michigan will host Western Michigan to kick off their 2021 college football season. The Wolverines are listed as -17 point favorites (as of 8/17) with a total of 66.5 at MyBookie, home of the best NFL handicapping contest online.
The Michigan Wolverines were a disappointing 2-4 last season. Their last two games, including the big one against Ohio State, we're cancelled thanks to Covid.
They started the year (on Oct 24th) by blowing out Minnesota 49-25 which earned them the #13 ranking in the nation. But things quickly went down hill from there. They lost their next 3 before needing triple OT to get by Rutgers. They then dropped their final game to Penn State.
Michigan was beaten soundly by both Indiana and Wisconsin. The losses to Michigan State and Penn State also stand out because neither of those teams were very good last year.
Western Michigan 4-2 in MAC in 2020
Western Michigan was 4-2 last season, good for 2nd place in the MAC West and they did play Ball State (1st in west) tough losing a 30-27 decision to end the year. But the key word here is the "MAC". Weak opposition. The only team they blew out was Akron.
Every other game was back and forth and high scoring. Even against bad MAC teams. The Western Michigan defense couldn't stop anyone and had to rely on the offense to bail them out.
The Michigan Wolverines, historically, don't stay down very long. Their last losing season was under Brady Hoke, when they went 5-7. Harbaugh took over in 2015 and they went 10-3.
Prior to that, they had back to back losing years in 2008 and 2009 under Rich Rodriguez. Then, you'd have to go all the way back to 1965 to find a losing season and that was under Bump Eliot and you'd have to go back to 1962 and 1963 to find consecutive losing seasons.
All Signs Point Up for Wolverines
So yeah, it would be extremely rare for Michigan not to have a winning season this year. If they are to accomplish that, there are certain games on the schedule that they absolutely must win and this is one of those games.
Western Michigan hasn't fared well historically when they step outside of their conference and take on a team from a power 5 conference. They are 9-59 to be exact, with most of those games against the Big 10 where they stand at 6-39.
Their last crack at a Big 10 team came in 2019 and it was a 51-17 setback at the hands of Michigan State.
We think Michigan rolls here. Not only winning, but pulling away and leaving no doubt when the dust clears.
Michigan -17 and OVER 66.5