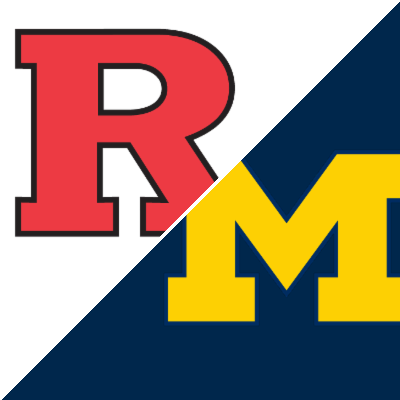 Rutgers and Michigan are both 3-0 after a mostly ho-hum non-conference schedule. As expected, Michigan has a bit more hype and was a -20 point home favorite in this game with an over/under of 50 points.
While the Scarlet Knights aren't the best team in the Big Ten, it's still been a long time since they were 3-0 and considered somewhat relevant. And while none of their wins are great, they've covered all of them fairly easily even as a favorite in all of them.
The question is how they'll look in a massive step up in competition, as the Wolverines have also covered every game fairly easily with three slightly more respectable opponents.
Are Wolverines for Real?
The hype is so much in Ann Arbor that they have the ninth-best odds to win the National Championship, which seems crazy because they beat a couple MAC teams and a Washington team that lost to Montana the prior week.
This game will probably be ugly, there's no way getting around that. Both teams are undefeated but through three games, neither has shown much of a passing attack. Noah Vedral is the most experienced quarterback in this game and he failed to top 150 yards in the first two games.
The only reason his numbers look acceptable is because of the blowout against Delaware. Otherwise, he's near last year's 5.7 yards per attempt, which is bad. Top wideout Bo Melton is a nice option, but at some point that's not going to be enough.
The Knights will hope to get something out of running back Isaih Pacheco, who oddly only has 152 yards on 3.4 yards per carry. Given those numbers, it's clear the Rutgers offense isn't very good and while they scored 61 points against Temple, that was mostly from five turnovers forced.
Michigan Defense Key
Michigan's defense may not be the best in the country, but it should have enough to stop Rutgers. The Wolverines have yet to allow more than 14 points and it'd be surprising if Rutgers hit 20 in this contest.
For the Scarlet Knights to have a chance, their defense will need to really step up. Funny enough, these defenses have identical numbers allowing 11.3 points per game and less than 115 rushing yards per contest. Again, that's nice, but the step up in competition is relevant.
The Wolverines only care about one thing and that's running the ball. They're averaging 7.2 yards per carry as a team behind Blake Corum at 407 yards, seven touchdowns and 8.5 ypc, and Hassan Haskins at 281 yards, four touchdowns and 5.7 ypc.
QB Questions
Even with those numbers, Michigan hasn't really gotten anything from its quarterback, as Cade McNamara has attempted just 37 passes. He's averaging 10 yards per pass, but that doesn't mean anything if you throw the ball 10 times per game. His lack of action is the main reason to doubt Michigan going forward, though maybe not in this game.
There is a world in which Rutgers plays tight defense and keeps Michigan under 5.0 yards per carry. It's definitely possible but it probably won't be something people bet on. When these teams met last year, it was almost like two different teams, as both McNamara and Vedral aired it out with Michigan winning 48-42 in three overtimes. Maybe things get back to those levels, but this one is set to be a little more defensive, as seen in the over/under.
Rutgers has covered in its last six road games, while Michigan is 7-1 ATS in its last eight as a home favorite.
Rutgers +20.5 (shop for 21!)