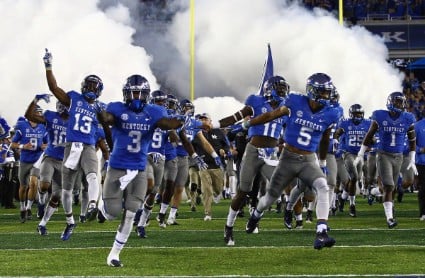 Kentucky will host Toledo in week 1 college football betting action in a game that will take place on August 31st at 12 noon est. Kentucky opened as a -13 point favorite at betonline. The line now sits at -12 as of this writing.
Interestingly enough, the game opened -13.5 at 5 dimes sportsbook and early betting moved that line all the way up to -15. Eventually, the market corrected across the board and the bigger bets on Toledo have resulted in -12 at most shops, even as low as -11.5.
Bettors Like Toledo Offense
It's easy enough to see what early bettors are keying on. Toledo has a high powered offense that figures to be just as good this year as in years past.
They face a Kentucky squad coming off a 10 win season and a Citrus Bowl win over Penn State. But the Wildcats offense didn't exactly strike fear in their opponents and that offense figures to take a step back in 2019.
The Kentucky offense averaged 26.6 points per game last season and simply didn't put much distance between themselves and opponents. It was the Kentucky defense that made this team tick.
The Wildcats defense had a defensive yards per point number of 19.3 last season, the 3rd best in the country. That was a legit defense the gave up 16 points per game. But they lose key players from that unit as well as the defensive coordinator.
Central Michigan was Common Opponent
Both of these teams faced 1-11 Central Michigan last season. Kentucky trailed at the half of their game, 21-20 and managed a TD in the 3rd and a TD in the 4th for a 35-20 win. Toledo, on the other hand, was up 37-0 after the 3rd quarter in an eventual 51-13 final.
It should be noted that Kentucky played Central Michigan in their 1st game while Toledo played them at the end of the year. But that game best illustrated what bettors are keying in on in this game. Kentucky's inability to extend a margin and Toledo's ability to score points in buckets.
There's an obvious difference in class here. Kentucky from the SEC going up against a MAC team in Toledo. The feeling here is that if Kentucky ends up covering this game, it will be as a direct result of that class difference and if that's the case, that will become evident in the 2nd half.
With that in mind, we think there's some value playing Toledo in the 1st half as well as for the 1st quarter.
Our Picks – Toledo + for the 1st half and the 1st quarter.