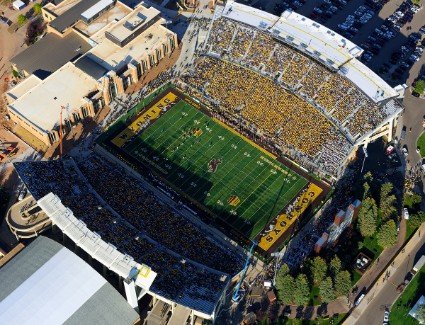 Wyoming lost badly at Missouri last season and in the opener this season they are 17.5-point underdogs hosting the Tigers with a total of 54.5.
Big time money has been on Missouri since they odds were released when the Tigers were a 14-point favorite.
The Cowboys were 6-6 last season and were only 5-7 ATS. One of the games they did not cover was the one at Missouri where they lost 40-13 failing to cover the 19-point spread.
Missouri was 8-5 last season, but that was behind QB Drew Lock, who is now with the Denver Broncos. They were 7-6 ATS last season, but they have failed to cover the spread in five of their last seven road games.
Former Tigers Takes Over for Tigers
Former Clemson QB Kelly Bryant takes over under center for Missouri and he completed 66% of his passes for Clemson and took the team to the College Football Playoffs.
Bryant may have one more year of eligibility, but Mizzou is banned from the post-season in 2019 because of an academic scandal. Still, he looks to improve his pro stock and while the Tigers lost their top WR they return Jonathan Johnson (737 yards last season) and grad transfer Jonathan Nance led Arkansas in receiving yards in 2017.
The big gun for the Mizzou offense is RB Larry Rountree III, who rushed for 1,216 yards last season and rushed for at least 119 yards in the last three games including topping 200 in the Tigers 38-33 bowl loss to Oklahoma State.
The Cowboys ranked a legit 19thin the nation in overall defense last season and while they lost some key guys, especially in the secondary, leading tackler Logan Wilson (103 tackles) is back.
The strength of Wyoming's defense will likely be against the run and Rountree III only had 34 rushing yards in last season's game, but then broke out shortly after.
Better QB Play is Needed
Wyoming struggled at the QB position and this season the job looks to go to redshirt freshman Chambers. The top two WR's in terms of yardage are gone as is the leading rusher, so the Cowboys have a lot of uncertainly heading into the season.
Austin Conway led the team in catches last season and 6'2" senior CJ Johnson is also back. The Cowboys have a solid offensive line, but a lot of pressure will be on Chambers, who will be playing in his collegiate game.
Xazavian Valladay takes over the top RB spot and last season he averaged 5.6 yards per carry and rushed for 396 yards.
The Missouri defense was up and down last season and they need some players to step up in the pass rush. Last season the Tigers did not have one player with over 2.5 sack, but the run defense was a good one ranking 22ndin the nation and that should be the strength of the D again.
Our Prediction
While Wyoming is 4-1 ATS in their last five games facing teams from the SEC they failed to cover facing Missouri last season and they are only 4-9 ATS in their last 13 non-conference games.
I look for Bryant and Rountree III to have big games in this season opener and the Cowboys simply will not be able to keep up with them. Take the SEC team in this game, as Mizzou will win and cover on the road.
Our Picks – Wyoming +1st quarter and 1st half, Missouri -17.5 for game