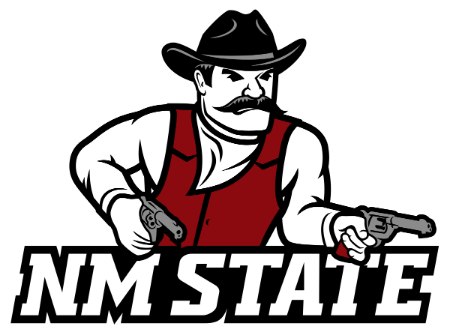 New Mexico State football had their season win total number set at over or under 3.5 wins by oddsmakers. Bettors reacted by betting the over as you'll now have to lay -130 to join them.
Head coach Doug Martin took New Mexico State to 7-6 with a bowl win over Utah State in 2017, but due to injuries and attrition, last year didn't go the same. The Aggies finished 3-9 with wins over a 1-11 team (UTEP), a first-year FBS school (Liberty) and an FCS school (Alcorn State). Martin would like to go to a bowl again, but this team has a long way to go.
Maybe the best thing for the Aggies is they know who their quarterback is after Josh Adkins took over as a freshman en route to 13 touchdowns and nine interceptions on 56.5% completion. The pass-heavy scheme led to 25.3 points per game, but Adkins, now a sophomore, has a full offseason as No. 1 QB under hit belt.
In addition to returning wide receivers OJ Clark (52 receptions) and Drew Dan (491 yards, 3 TDs), NMSU added a few juco transfers along with Baylor grad transfer Troy Nicholson.
Running back Jason Huntley (505 rushing yards, 7 TDs, 47 receptions, 529 receiving yards) also returns with Christian Gibson (590 yards, 6 TDs) a short-yardage presence.
While the line lost a couple starters, they added a couple big bodies to go with three returning seniors.
Defense may be a little harder to figure out after allowing 476 yards and 41.3 points per game. The Aggies went from beating Utah State 26-20 in 2017's bowl win to losing 60-13 the following year.
Similar to some offensive positions, NMSU went to the juco ranks to bulk up and will hope that adds depth. The line returns a few starters, but they also allowed 268.4 rushing yards per contest.
At the least, improvement should be guaranteed as long as injuries don't destroy their core again. Seniors Roy Lopez and Cedric Wilcots are viable on the line, while a few transfers join Javahn Fergurson (131 tackles) at linebacker.
Seniors Shamad Lomax and Ray Buford return at corner, but safety is a bit unknown with underclassmen and transfers set to start.
New Mexico State won't reach 2017 levels, especially due to schedule, but six wins is still the goal. The problem is that the Aggies are all but guaranteed to lose at least six games given they open with Wazzu, Alabama and SDSU.
It's also unlikely they sweep Liberty so reaching a bowl is out of sight unless something dramatic changes.
The over/under barely cracks three wins because of a down 2018, but with expected improvement on both sides of the ball, there's room for four or five wins.
Then again, the Aggies will likely have to win at least one road game to reach four wins with their best shots of winning coming at home against Liberty, Incarnate Word and UTEP. Juco transfers are nice, but betting on them to improve the team drastically is never easy.
You can read previews of many of the Aggies opponents using the links in the schedule below.
2019 New Mexico State Aggies Football Schedule
Aug. 31 at Washington State (opened +33)
Sept. 7 at Alabama
Sept. 14 vs. San Diego State
Sept. 21 at New Mexico
Sept. 28 vs. Fresno State
Oct. 5 vs. Liberty
Oct. 12 at Central Michigan
Oct. 26 at Georgia Southern
Nov. 9 at Ole Miss
Nov. 16 vs. Incarnate Word
Nov. 23 vs. UTEP
Nov. 30 at Liberty