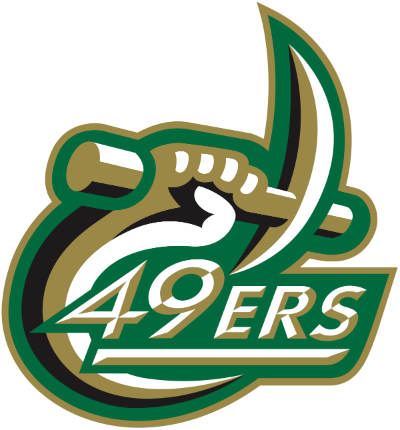 Bettors aren't always right, of course, but if they are in this case, Charlotte football will not participate in a Bowl game in 2019. Their over under win total betting line is set at 4.5 wins with heavier action on the under.
Charlotte surpassed its over/under last year with a 5-7 record, yet it still felt like more was possible. That's why Will Healy was brought in after taking Austin Peay from 0-11 to 8-4 in his first two seasons.
The 49ers won't see that same kind of improvement, but a bowl is still the hope for this team even if the over/under opened at 4.5 wins.
Tailback Benny LeMay Bright Spot on Offense
For Charlotte to get better offensively, it needs more out of its quarterback and heading into the fall, Chris Reynolds had the leg up after showing the most as a freshman (7.6 yards per attempt) before injuring his ankle.
Evan Shirreffs is still there and a couple others were brought in, but Reynolds looked the part last year and either way, the offense will likely be run heavy with tail back Benny LeMay (1,228 yards, 11 TDs) returning for his senior season.
LeMay has been the lone bright spot for this offense, averaging 5.3 yards per carry each of the last two years. Hitting that number again will be vital with only two returning starters on the line.
In the receiving game, LeMay will also help out after 21 receptions last year, while Victor Tucker (712 yards) likely takes over as the top wide out with Rico Arnold and Cameron Dollar also in bigger roles.
8 Returning Starters on Defense
Defensively, the 49ers were always one of the best against the run under their former coordinator and allowed 105.7 rushing yards per game last year. Repeating that will be tough in a new 4-2-5 scheme, but with eight returning starters, it should be possible.
Senior ends Alex Highsmith and Tyriq Harris are a good starting point on the line, while linebacker also returns a couple seniors in Anthony Butler and Jeff Gemmell.
The goal is for the secondary to improve behind safety Ben DeLuca and a couple other senior returnees, and Healy also brought in a couple high-level transfers from Tennessee and Penn State, who could help immediately.
Despite Betting Trends – A Bowl Still Possible
Charlotte has a chance for two non-conference wins outside of the difficult trips to App. State and Clemson. If that happens, a bowl game wouldn't be overly surprising.
The problem is that the 49ers play three C-USA favorites at home (FAU, NTU, Marshall), which means they'll have to win some road games. That'll be possible against WKU, UTEP and ODU, but that's maybe not something to bet on from a new coach.
That said, there are pieces for all-around improvement on this team, from an experienced sophomore quarterback and senior running back to a decent core on the defensive side.
The 49ers won't win the conference, but reaching a bowl is possible if they can get those early wins.
Use Yards Per Point to handicap football
2019 Charlotte 49ers Football Schedule
Aug. 29 vs. Gardner-Webb
Sept. 7 at Appalachian State
Sept. 14 vs. Massachusetts
Sept. 21 at Clemson
Sept. 28 vs. Florida Atlantic
Oct. 12 at Florida International
Oct. 19 at Western Kentucky
Oct. 26 vs. North Texas
Nov. 2 vs. Middle Tennessee
Nov. 9 at UTEP
Nov. 23 vs. Marshall
Nov. 30 at Old Dominion