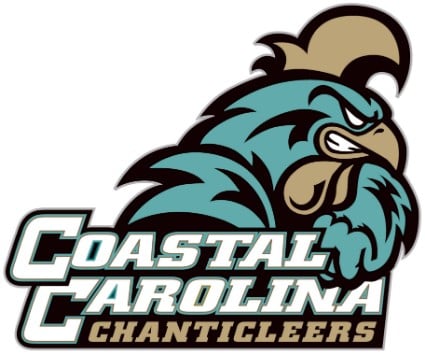 Coastal Carolina football has a season win total betting line of 4.5 wins for the 2019 college football season. Bettors apparently think that's too high as they have jumped all over the under. The moneyline on the under is now -165.
Long-time coach and CEO of TD Ameritrade, Joe Moglia, finally called it quits, at least in terms of being the head coach of Coastal Carolina. He left on a somewhat dour note, though the Chanticleers still managed five wins in their second FBS campaign.
Fortunately, not much will change since new head coach Jamey Chadwell was the offensive coordinator and previously served as interim head coach in 2017. 
Offense Wasn't the Problem Last Season
CCU didn't make a bowl last year, but it wasn't because of the offense, which averaged 198.7 rushing yards and 26.7 points per game. That's not amazing, but given that they used three different QBs and two of them were injured, that's decent.
The remaining quarterbacks are last year's backups in Fred Payton and Bryce Carpenter, both of whom averaged more yards per attempt than the original starter Kilton Anderson.
That's at least a positive going into the season and there's a good chance both Payton and Carpenter see time again. The good news is that there are a lot of pieces surrounding the quarterback.
CJ Marable (719 yards, 6 TDs) and Jacqez Hairston are set to split carries in the backfield, while only one top receiver has to be replaced with Ky'Jon Tyler (397 yards) and Jeremiah Miller (272 yards) leading the way along with Virginia Tech transfer Samuel Denmark.
There are questions on the line with possibly four sophomores set to start, but the group shouldn't be any worse than a year ago.
Defense WAS the Problem Last Season
Defense is another story after allowing 244.4 rushing yards and 33.2 points per game. Defensive coordinator Marvin Sanders's first year in college since 2012 didn't go well so he's changing things up and moving to more of a 3-4 scheme.
The hope is that the lone returnees in the front seven can make a difference with tackle Sterling Johnson and end Tarron Jackson (11 TFL) up front, and inside linebackers Teddy Gallagher and Silas Kelly roaming the middle of the field.
Depth is a concern at every level so any injury could be a major issue. Outside of corner Mallory Claybourne, the secondary has little returning experience.
4 or 5 Wins Possible
If Coastal Carolina had a better defense, it probably could get a couple wins from non-conference play, but it's likely only one will happen (Norfolk State). Finding wins will be difficult in the Sun Belt, though home games against Georgia State and Texas State helps.
Otherwise, the Chanticleers have an uphill battle, especially since they don't play South Alabama, the projected worst team in the West division. They have decent playmakers on the offensive side, but unless they really take off under Payton or Carpenter, it's unlikely they'll score enough points to offset whatever the defense does poorly.
Four or five wins are possible because of schedule, but there aren't many signs that suggest the defense will make a vast improvement.
Yards per point is a fantastic betting stat
2019 Coastal Carolina Chanticleers Football Schedule
Aug. 31 vs. Eastern Michigan (opened +5.5)
Sept. 7 at Kansas
Sept. 14 vs. Norfolk State
Sept. 21 at Massachusetts
Sept. 28 at Appalachian State
Oct. 12 vs. Georgia State
Oct. 19 at Georgia Southern
Nov. 2 vs. Troy
Nov. 7 vs. Louisiana
Nov. 16 at Arkansas State
Nov. 23 at UL Monroe
Nov. 30 vs. Texas State