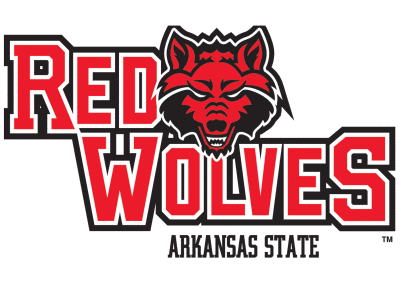 The Arkansas State Red Wolves over/under on wins for 2019 college football season opened at 7.5 wins with early money on the over to go with -130 odds to win the Sun Belt West.
Arkansas State has been one of the more consistent teams in the Sun Belt since Blake Anderson took over in 2014, finishing with at least seven wins and no more than nine every season.
However, this year is a little different and Anderson has said it kind of feels like a new start. In addition to breaking in new coordinators, they have to replace Sun Belt Player of the Year Justice Hansen.
New OC for 2019
The offense will look different as Anderson is no longer calling plays, seceding that to new OC Keith Heckendorf, who served numerous roles at UNC over the last eight years.
Logan Bonner is expected to start under center after attempting 53 passes the last two years as backup. He probably won't match Hansen's 27 touchdowns on 65.9% completion, but if he struggles, there are guys in waiting ready to take over.
The receiving corps should help things as Kirk Merritt (83 receptions, 1,005 yards, 7 TDs) and Omar Bayless (566 yards) both return along with tight end Javonis Isaac (210 yards, 4 TDs).
The hope is to get the ground game to last year's levels, averaging 4.7 yards per carry behind Marcel Murray (860 yards, 8 TDs) and now juco transfer Ryan Graham.
The line returns six players with starting experience, though only three were full-time starters last year and one of them is recovering from a knee injury. That unit could fall off, but experience usually goes a long way on the line.
Defense One of Best in Conference
The defense shouldn't change too much even with a new coordinator after being one of the best in the conference, allowing 26.4 points per game. New DC David Duggan (former Western Michigan LBs coach) will aim to improve the rush defense, which allowed 200.7 yards per contest.
The good news is that there are playmakers at every level, though tackles Forrest Merrill and Kevin Thurmon have to improve the most against the run. William Bradley-King (six sacks) will take up a bigger role at end as the top sack master.
Linebacker has experience with injury-riddled Tajhea Chambers back for another year along with sophomore Derrick Bean.
The secondary may be the best unit in the 4-2-5 scheme with safeties Darreon Jackson (90 tackles) and B.J. Edmonds, as well as corner Jerry Jacobs (four INTs).
Lower Expectations But Still a Contender 
Arkansas State doesn't have the same expectations as a year ago, but should still contend near the top of the division, which is seen in the odds. The unfortunate part of the schedule is opening with four of the first six games on the road with a new quarterback.
However, the schedule is still favorable enough to win the West with winnable road trips against UNLV, Ga. State, ULM and USA. Maybe that's best-case scenario, but there's no reason to doubt this team given what Anderson has done with it the last five years.
Eight wins should be on the table again if all goes well with Bonner at quarterback and the absence of App. State on the schedule helps even more. 
Additional previews are linked below in the schedule
2019 Arkansas State Red Wolves Football Schedule
Aug. 31 vs. SMU (opened -3)
Sept. 7 at UNLV (opened -3.5)
Sept. 14 at Georgia
Sept. 21 vs. Southern Illinois
Sept. 28 at Troy
Oct. 5 at Georgia State
Oct. 17 vs. Louisiana
Oct. 26 vs. Texas State
Nov. 2 at UL Monroe
Nov. 16 vs. Coastal Carolina
Nov. 23 vs. Georgia Southern
Nov. 30 at South Alabama