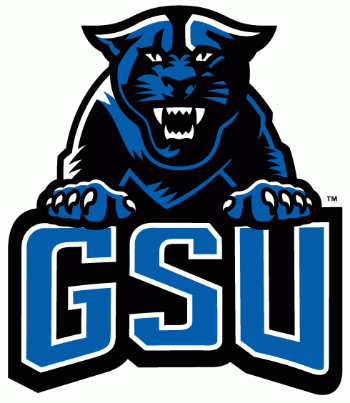 If the betting odds are any indication, Georgia State football is predicted to win 4 games in 2019. That means another year without a Bowl game for the Panthers.
Georgia State went from a bowl win in Shawn Elliott's first season to winning just two games last year. Somewhere in between those finishes is where the Panthers are projected to end 2019, which means another season without a bowl.
At the least, they have more experience returning combined with a new coordinator in Brad Glenn (Western Carolina). Their over/under opened at 3.5 wins with early money on the over.
A Run First Offense
The offense was passable at times last year, finishing with 23.9 points per game, and a lot of the success came from quarterback Dan Ellington, who will again do everything. While he only passed for 12 touchdowns (and five interceptions), he also led the team with 625 rushing yards and five more touchdowns.
Improving his passing numbers could be tough without top wide out Penny Hart, but Cornelius McCoy (495 yards) and Devin Gentry (286 yards) are still there to catch passes with tight end Roger Carter (15 receptions).
That said, this will still be a run-first offense with a few options to carry the ball led by Tra Barnett (551 yards, 7 TDs) and Seth Paige (341 yards, 4 TDs).
The general consensus is that the line should improve even with a bunch of underclassmen in the mix as returning starters Hunter Atkinson and Shamarious Gilmore could finish as all-conference players.
Depth Should Help Defense
The defense remains a bigger question after allowing 251 rushing yards and 37.4 points per game. They didn't give up as many passing yards, but efficiency-wise, the pass defense was worse than the rush defense.
The good news is that the guys who were injured last year return, as well as the ones that were thrown into the lineup too early. That depth could go a long way, but the veterans also need to step up whether it's Terry Thomas on the line, Ed Curney at inside linebacker or corner Cedric Stone, who missed most of 2018 after an early injury.
It's almost impossible for this group to be worse, but there are reasons to believe decent improvement can be made.
Another Year Without a Bowl Game
Reaching a bowl is another story because games against Tennessee, WMU and Army will likely lead to three non-conference losses. Unfortunately, this isn't a team that's going to win five Sun Belt games and it doesn't help that their home games are against the best teams in the conference (ASU, Troy, App. State).
That means to double their two wins from last year, Georgia State may need to win a couple road games and that's what the trips to Texas State and Coastal Carolina present early in the season.
If they lose both of those, it could be a long season with two or three wins likely the result again. All signs point to some improvement on both sides of the ball, but the Panthers still aren't a team that will contend for the conference title. 
2019 Georgia State Panthers Football Schedule
Aug. 31 at Tennessee (opened +25.5)
Sept. 7 vs. Furman
Sept. 14 at Western Michigan
Sept. 21 at Texas State
Oct. 5 vs. Arkansas State
Oct. 12 at Coastal Carolina
Oct. 19 vs. Army
Oct. 26 vs. Troy
Nov. 9 at UL Monroe
Nov. 16 vs. Appalachian State
Nov. 23 vs. South Alabama
Nov. 30 at Georgia Southern