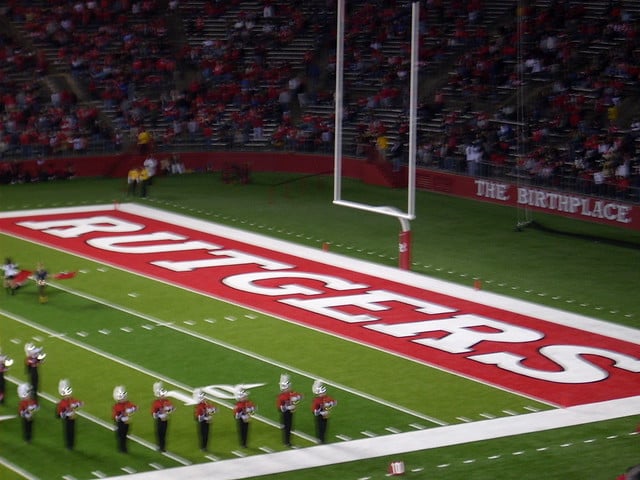 Rutgers football is predicted to struggle in 2019 according to their posted odds to win the Big 10 conference of 500 to 1. That would place them dead last in the conference once again.
It's worth noting however, that bad teams sometimes make good bets. The Scarlet Knights were 7-5 against the spread at last season. At home, Rutgers was 5-2 against the spread while in conference games, they were a profitable 6-3 ATS.
It's safe to say that the pressure is building for head coach Chris Ash, who expected to reach a bowl in 2018. 
It was back to usual for Rutgers last year. After reaching four wins in Chris Ash's second year in charge, the Scarlet Knights reverted to the norm, finishing 1-11 last season. While they were fairly competitive in some late games, that doesn't exactly excuse a 55-14 loss to Kansas early in the year.
Outlook is Bleak Offensively
The hope for offensive improvement rests on the shoulders of Artur Sitkowski, who was mostly miserable in his freshman campaign, finishing with four touchdowns and an FBS-high 18 interceptions on 49.1% completion.
Clearly, those numbers have to change for Rutgers to move from terrible to subpar offensively. That said, there's a chance Texas Tech transfer McLane Carter steals the job from under him and it wouldn't be surprising given last year's numbers.
The line returns three players with experience and the goal is for that unit to improve and get the ground game going.
Running backs Raheem Blackshear (586 yards, 3 TDs) and Isaih Pacheco (551 yards, 3 TDs) will again be fed as much as possible in an effort to not force Sitkowski into throwing too much.
At the least, his top receivers are back including Blackshear, but also wide outs Bo Melton, Eddie Lewis and Shameen Jones.
Defense Improved Late Last Season
Rutgers's defense actually came around late in the year, holding PSU and MSU to a combined 34 points, though still gave up more than 31 per game on average, a lot of that from 214.8 rushing yards.
Ash brought in former colleague Andy Buh to coordinate the defense after leading Maryland to similar numbers last year. There are still questions on the line with inexperience in the two-deep and the returning starters all part of the group that was torched last year.
Linebacker is in a similar situation with junior Tyshon Fogg set to start in the middle. The biggest hope is in the secondary, which had good numbers last year, though mostly because it was so easy to run on the front.
Corner is set with Avery Young and former safety Damon Hayes, but safety is full of underclassmen and inexperience. No matter how you look at it, this defense has a long way to go.
We Can't Predict More Than Two Wins
The Scarlet Knights should reach two wins at a minimum with UMass and Liberty on the schedule, but more than that requires improvement. It doesn't help that they get five road games in Big Ten play.
One of those comes against Illinois, so a road win is at least possible. Their other chances for wins include Boston College, Maryland and Minnesota.
Playing in the East division remains a problem for Rutgers, but the cross-division schedule is favorable enough that three or four wins are at least on the table. But any way you look at it, the Knights have a lot of improving to do before they're ready to make a bowl game.
Rutgers hosts Ohio State 11/16/19 – Buckeyes 2019 Betting Preview
2019 Rutgers Scarlet Knights Football Schedule
Aug. 30 vs. Massachusetts (opened -14.5)
Sept. 7 at Iowa
Sept. 21 vs. Boston College
Sept. 28 at Michigan
Oct. 5 vs. Maryland
Oct. 12 at Indiana
Oct. 19 vs. Minnesota
Oct. 26 vs. Liberty
Nov. 2 at Illinois
Nov. 16 vs. Ohio State
Nov. 23 vs. Michigan State
Nov. 30 at Penn State