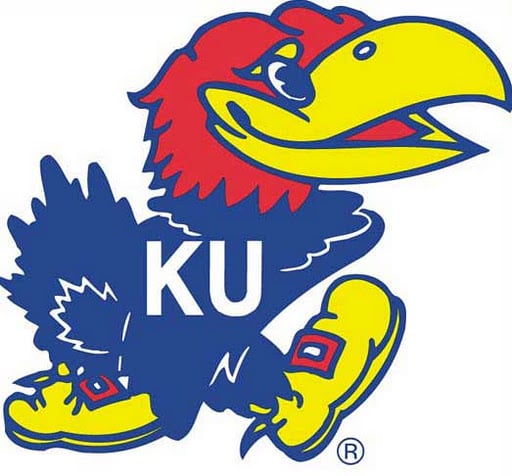 The current betting odds for the Kansas Jayhawks to win the Big 12 are listed at +10000 which places them dead last in the conference. Those odds are listed at 5 dimes sportsbook.
Les Miles is in town, but that won't automatically make Kansas a legitimate team having failed to win more than one conference game in the last 10 seasons. Miles eventually wants to change that, but it may take a year or two given the issues on the roster.
Kansas was in an immediate hole following the hiring of Miles, mostly due to the lack of experience and terrible recruiting the last couple seasons.
No Elite QB Could Make for Long Year
There are plenty of questions revolving around the offense after spring practices. Without an elite quarterback, it's possible they take a run-first approach with Pooka Williams (1,125 yards, 7 TDs), Khalil Herbert (499 yards, 5 TDs) and Dom Williams.
As of June, it was still unknown if Pooka would be eligible, but the other two at least have experience.
After spring, it was anyone's best guess as to who would be the starting quarterback with JUCO transfer Thomas MacVittie possibly having the advantage over redshirt senior Carter Stanley.
Stephon Robinson (330 yards) is the top returning receiver, though could lose his job to bigger transfers like Daylon Charlot or Ezra Naylor.
The line will ideally improve in a new system with returning players like Hakeem Adeniji still in the mix.
This is an offense that scored just 23.8 points per game last year and doesn't return much from that group, so it'll still be a long season no matter who wins the QB job.
Top Linebackers Gone
It's a slightly better case on the defensive side after they had a decent 2018, allowing 30.0 points per game. The secondary kept them afloat and should do so again with four returning seniors, highlighted by the cornerback duo of Hasan Defense and Corione Harris, as well as safeties Bryce Torneden and Mike Lee.
This defense had 16 interceptions last year and could be near that number again in a new 3-4 scheme.
The main problem is that Kansas lost all of its top linebackers, so that unit will almost be completely new.
Only two starters are back in the front seven total, meaning even with a good secondary, this defense could still be ran over.
Bowl Game Extremely Doubtful
To get Miles started on a good note, the schedule opens with two winnable games. Sure, the Jayhawks lost to Nicholls State last year, but that's not something fans expect with Miles.
The other wins will be a little harder to find. To get one or two conference wins, they'll likely need to get both of those at home. There are a few chances to do so with five home games, as WVU, Tech, K State and Baylor are all winnable.
This team at least showed hope late last season by beating TCU and coming close to Kansas State and Texas. That's the goal this year, but to play like that from the start. The problem with taking their over is an unknown at quarterback and mostly new defensive front.
Kansas plays Oklahoma on 10/5 – Here's the Sooners Betting Preview
2019 Kansas Jayhawks Football Schedule
Aug. 31 vs. Indiana State
Sept. 7 vs. Coastal Carolina
Sept. 13 at Boston College
Sept. 21 vs. West Virginia
Sept. 28 at TCU
Oct. 5 vs. Oklahoma
Oct. 19 at Texas
Oct. 26 vs. Texas Tech
Nov. 2 vs. Kansas State
Nov. 16 at Oklahoma State
Nov. 23 at Iowa State
Nov. 30 vs. Baylor