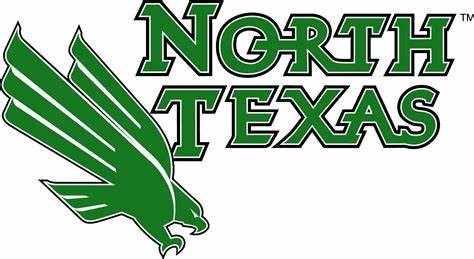 With their quarterback in tow, North Texas is set for another run at the top of the conference with an over/under of 7.5 wins to go with +400 odds to win C-USA.
The schedule was there for North Texas to reach another C-USA title game under head coach Seth Littrell last year, but a couple disappointing results led to three conference losses.
On the positive, the Mean Green hit their over and went 9-4 overall, though Utah State throttled them in the New Mexico Bowl.
QB Mason Fine Leads the Offense
Success starts with senior quarterback Mason Fine, the full-time starter the last two years and likely best QB in school history. He's coming off an excellent campaign, throwing 27 touchdowns and only five interceptions on 8.1 yards per attempt.
Fine's experience should be enough to keep the offense rolling after averaging 461 yards and 34.6 points per game last year, even with Bodie Reeder as the new OC, coming over from Eastern Washington.
Joining Fine is a deep backfield, which returns DaAndre Torrey (977 yards, 15 TDs), Loren Easly (386 yards) and Nic Smith (363 yards). Receiver lost a top option, but is still stocked with Rico Bussey (1,017 yards, 12 TDs), Jaelon Darden (575 yards) and tight end Kelvin Smith (29 receptions).
The main question is the line, which lost both tackles. The good news is that the replacements are capable with sophomore Jacob Brammer getting time last year and D'Andre Plantin a Virginia Tech transfer.
Defense Takes Big Step Back
The worry for North Texas is that its defense was gutted at every level from a group that made a big improvement, allowing 21.8 points per contest. LaDarius Hamltion (7.5 sacks) can be a force on the end, but he'll likely get more attention with everyone else new in the front six of the 3-3-5 scheme.
The coaches talked all spring about the talent at linebacker, but last year's leaders played almost every snap. At the least, the new starters are all upperclassmen, as guys like Tyreke Davis and Jamie King had numerous starts last season.
The secondary needs help at cornerback, though returns senior safeties Khairi Muhammad and Taylor Robinson, so all is not completely new on the back end.
North Texas went undefeated in non-conference play last year, but that likely won't happen again with trips to SMU and Cal on the slate to go with a home game against Houston.
Under 7.5 May Be the Play
It wouldn't be surprising if the Mean Green lost two of those before a difficult C-USA road schedule that includes games at Southern Miss and Louisiana Tech. However, their cross-division slate is manageable (MTSU, Charlotte) so reaching eight regular-season wins is possible.
Then again, there are a lot of new assistants leading a team that has questions. Fine is great, but the offensive line could be a problem, while the defense will undoubtedly take a step back.
If that's a problem early, expect a couple non-conference losses at a minimum leading to seven or eight overall wins.
Use yards per point to handicap football
2019 North Texas Mean Green Football Schedule
Aug. 31 vs. Abilene Christian
Sept. 7 at SMU
Sept. 14 at California
Sept. 21 vs. UTSA
Sept. 28 vs. Houston
Oct. 12 at Southern Mississippi
Oct. 19 vs. Middle Tennessee
Oct. 26 at Charlotte
Nov. 2 at UTEP
Nov. 9 at Louisiana Tech
Nov. 23 at Rice
Nov. 30 vs. UAB