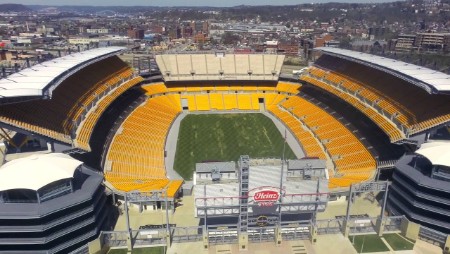 The Pitt Panthers will host the Ohio Bobcats in week 2 college football betting action at Heinz Field. Pitt opened as -3.5 point favorites at betonline. Bettors made their opinion known immediately as early money pushed that line up to as high as -7.5. It currently sits at -5.5 with a total of 52.5.
They head into their first road game of the season as a 6.5-point underdog facing Pittsburgh at Heinz Field.
Ohio easily won their season opener, but they beat Rhode Island, who are far from a college football powerhouse.
Pitt lost their first game of the season falling to Virginia 30-14 where they failed to run the ball well, gave up 128 rushing yards, and were sloppy with two turnovers while forcing none.
To say the Panthers need to win this game may be an understatement, as their next two games come facing the ranked teams of Penn State and Central Florida.
This is Ohio's only game this season against a Power 5 conference team.
These teams have not met since the 2005 season.
Ohio is coming off an 8-5 season where they beat San Diego State in a Bowl game. Pitt finished last season at 7-7 losing to Stanford in a Bowl game.
While the Bobcats are a solid 17-5 ATS in their last 22 non-conference games Pitt is only 5-17-1 ATS in their last 23 non-conference games.
Can the Bobcats Run with the Big Boys?
In their 41-20 win over Rhode Island in their opening game of the season they racked up 278 rushing yards. Can they do that facing Pitt from the ACC? The Panthers did give up 128 rushing yards in their 30-14 opening loss to Virginia, but they only gave up 3.9 yards per rush.
The Panthers main goal in this non-conference affair it to try to contain Ohio QB Nathan Rourke. In the win over Rhode Island he passed for 188 yards with 2 TD and no picks and also led the team with 75 rushing yards. In the last two seasons as the starting QB for the Bobcats he passed for at least 2.203 yards and rushed for at least 860 yards.
Julian Ross rushed for 68 yards in the win over RI and De'Montre Tuggle rushed for 65 yards on only three carries with 55 yards coming on one run, which was a TD scamper. The Bobcats are a run-first team and they have to establish the run in this game. If the Panthers can stuff the run Ohio will be in for a long game.
Avoid Mistakes
Pitt has to avoid mistakes in this game. They not only turned the ball over twice, but had a punt blocked, and QB Kenny Pickett was sacked four times.
The Panthers hired offensive coordinator Mark Whipple and he instituted a more pass-heavy attack. Pickett did pass for a career high 185 yards but had two INT and was only 21/41. He missed some open WR's and was on the run the whole game behind an offensive line that has four new starters.
Ohio only had two sacks in the win over Rhode Island with Cole Baker having 1.5 of them. The Panthers do not have a great pass rush, but at least they face an inexperienced Pittsburgh offensive line that did not play well at all in the loss to Virginia.
The Pitt run game was not good in the Virginia game either with A.J. Davis (25 yards) and Todd Sibley Jr. (23 yards) the top two rushers and neither averaged over 3.3 yards per carry.
Ohio played well against the run in the win over Rhode Island but did give up 291 passing yards. That has to be a major concern for the Bobcats facing the new pass-heavy attack of the Panthers. Pitt does have a solid WR corps and their line has to give Pickett time to find them.
Our Prediction
Ohio won easily in their opener against Rhode Island but they did not cover the spread. Pitt has a bad non-conference ATS record in the last several seasons, but they have covered the spread in five of their last seven home games.
All-time Pittsburgh is 7-1 facing Ohio.
Pitt will play much better in this game in all facets. Pickett will have a good passing game and the defense will keep Rourke in check. At home the Panthers will get in the win column beating Ohio and they will also cover the spread giving 6.5 points.
PICK:Pittsburgh -5.5