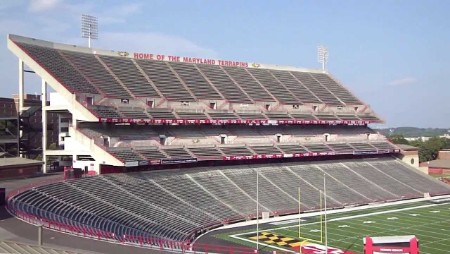 Maryland will host Syracuse in week 2 betting action in a game that saw the Orangemen open as -4 point favorites at betonline (-2.5 everywhere else) only to see the Terps become favored as early money rolled in. Maryland is -1.5 with a total of 56 as of this writing on Tuesday.
Syracuse is the 22nd ranked team in the nation and while they had a shutout in their season opener, they were facing Liberty and only scored 24 points.
Maryland got off to a decent start to the season and by decent, I mean they scored 79 points and did not allow any. Ok, they played Howard, but still have to have some confidence coming into this non-conference game.
Syracuse cannot overlook Maryland for their biggest game of the season in their next one hosting top ranked Clemson.
These teams last met in the 2014 season.
Syracuse is coming off a 10 win season and has high hopes this season in ACC play. Their defense is highly regarded, and they showed some flashes of that in the win over Liberty where they had eight sacks.
Maryland was only 5-7 last season and getting a win over a ranked Cuse team would be big for the program and new head coach Michael Locksley. However, they were only 1-4 facing ranked teams last season and 1-4 ATS in their last five games facing a team with a winning record.
Clean it up Orange
Syracuse did beat Liberty 24-0 in their season opener, but the game was not a great one for them. Yeah, they pitched, shutout and totally stuffed the run and forced four turnovers, but they had three turnovers and gave up 238 passing yards.
Tommy DeVito passed for 176 yards but completed less than 50% of his passes and was picked off twice without throwing for a TD. You can be sure that Maryland will be a stiffer defensive test and he has to cut down on his mistakes.
The Orange rushed for 192 yards in the Liberty game with Moe Neal rushing for 89 yards averaging 6.4 yards per carry and Abdil Adams rushed for 49 yards.
Cuse may be the team that Clemson has to worry about in the ACC, but they have to get by Maryland and have a better game than the one against Liberty.
Confidence Booster
Maryland had a little bit of a confidence booster throttling Howard 79-0. They were up 56-0 at the half and out gained Howard 623 to 68 yards.
Josh Jackson passed for 245 yards with 4 TD and no picks and Jake Funk and Tayon Fleet-Davis each rushed for 79 yards.
A win is a win and Maryland is at home in this game, but can they move the chains facing a solid Syracuse defense? That is the big question in this game for the Terrapins, who face a legit Temple team on the road in their next game and then after that open the Big 10 season at home facing a currently ranked Penn State squad.
Our Prediction
Maryland is 5-1 ATS in their last six home games but Syracuse is 10-3 ATS in their last 13 road games and 6-1-1 ATS in their last eight non-conference games.
Both teams are coming off shutout wins in their last games, but Cuse was on the road and faced Liberty who were 6-6 last season while Maryland was at home faced Howard, who only won four games last season.
The Orange will not take the Terps for granted and they will clean up their play and look for a big game from the strong armed DeVito. Syracuse will flex their muscles on defense as well and they will win and cover moving to 2-0 getting ready for their HUGE match up with Clemson.
 PICK: Syracuse +1.5