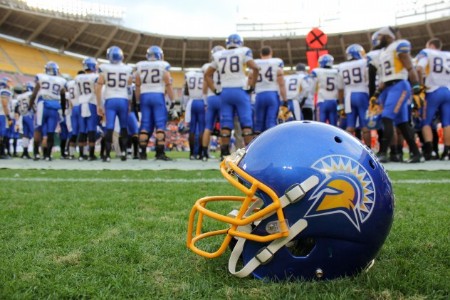 San Jose State football has their season win total betting line set at 2.5 wins for the 2019 season. Bettors seem to think that number is off. The early betting action on that prop is on the over which has pushed the money line to -190.
San Jose State wasn't expected to be good last year and that's how things played out en route to a 1-11 record, one fewer win than head coach Brent Brennan's first season. It's been a rough rebuild for the Spartans, though that was to be expected.
Reaching a bowl is still a long way away with the hope for this team being three or four wins and that's what bettors believe with early money on the over 2.5 wins.
Experience at QB
At the least, the Spartans have experience at quarterback in senior Josh Love, who was injured late last year, though still finished with 14 touchdowns and nine picks on 56.1% completion.
The main problem last year was that every opponent torched their offensive line, getting the three QBs sacked a combined 39 times.
Four starters return up front, but given last year's struggles, there will likely be some position changes, especially with Minnesota transfer Quinn Oseland now in the mix.
An improved line will also help the rushing attack led by Tyler Nevens (554 yards), who should see more carries if the offense isn't put in as many negative situations.
Love gets back Tre Walker and Bailey Gaither at wide out, who both averaged more than 18 yards per reception, but someone has to become the new underneath option with tight end Brett Foley set to start after only three receptions last year. 
Weak Defense Likely to Remain So
San Jose State had similar issues on the defensive end last year, allowing 495 yards and 36.6 points per game. They had a couple good games and almost stole a win at SDSU, but more often than not gave up points in bunches.
To help, there are players to work with and improvement is around the corner. Stud senior linebackers Jesse Osuna and Ethan Aguayo are a big reason for that, but also sophomore end Cade Hall, who quickly made a name for himself last season.
The secondary will be hit-or-miss with two new sophomore corners, but two returning juniors help at safety. The defense is more talented and deeper than a year ago, it just depends on how they put that together. 
4 Wins the Likely Outcome
The Spartans have a good chance to get at least one early win with two on the table against Northern Colorado and Tulsa. It's a little less certain after that because three of their home games come against SDSU, BSU and FSU, three of the best teams in the Mountain West.
Their only other chance at a win may be against New Mexico in October. Then again, they showed life at random times last season and there's no reason this team can't be competitive against Hawai'i or UNLV later in the year.
SJSU lost in overtime to Hawai'i and beat UNLV by 13 points last year, so it's not a crazy thought. Love gives them a presence at quarterback and if the line and defense improve as expected, there's hope for four wins.  
Learn how to use yards per point to handicap football
2019 San Jose State Spartans Football Schedule
Aug. 29 vs. Northern Colorado
Sept. 7 vs. Tulsa
Sept. 21 at Arkansas
Sept. 27 at Air Force
Oct. 4 vs. New Mexico
Oct. 12 at Nevada
Oct. 19 vs. San Diego State
Oct. 26 at Army
Nov. 2 vs. Boise State
Nov. 9 at Hawai'i
Nov. 23 at UNLV (opened +7)
Nov. 30 vs. Fresno State