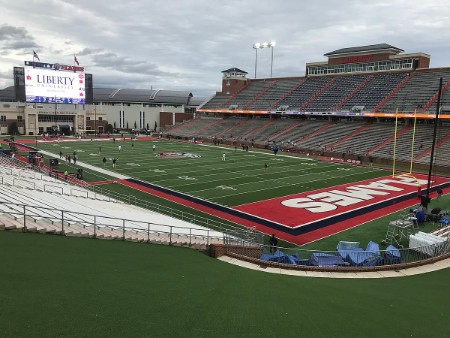 Liberty is an infant in D1, and they host Syracuse from the ACC in both team's season openers with the Orange a 17.5-point favorite with a high total of 56.
Syracuse finished a legit 10-3 last season and gave eventual National Champion Clemson their best game. They come into this season with high hopes but cannot take Liberty for granted.
The Orange were a good betting team last season at 9-3-1 ATS and are 5-1-1 ATS in their last seven non-conference games.
Liberty was 6-6 last season and they did not fare well in their two games facing teams from Power 5 conferences in Auburn and Virginia losing by a combined total of 98-24. However, they have their big guns back on offense and are at home. On top of that they are 17-4 ATS in their last 21 non-conference games.
Skill Players Return to the Fold
QB Stephen Calvert, RB Frankie Hickson, and WR Antonio Gandy-Golden are all back for the Flames and that has to a concern for a Cuse defense. Calvert passed for 3,068 yards with 21 TD, Hickson rushed for 1,032 yards with 11 TD, and Gandy-Golden had 71 receptions with 1,037 yards with 10 TD.
The defense has their top-two sacks guys from last season returning and while the pass D was not great last season many guys return, and they have a 4-star recruit in DB Tayvion Land.
Liberty will be facing a Syracuse defense that was decent against the run last season, but only ranked 115th in the nation against the pass. Still, the Flames' offensive line has to keep the duo of Alton Robinson and Kendall Coleman, who each had double-digits in sacks last season, out of the backfield.
Keep on Building
Cuse won 10 games for the first time since 2001 last season and they may have legit ACC title hopes this season. Not easy with their 3rd game facing Clemson, but the Orange have talent.
Tommy DeVito gets the call at QB as a drop-back passer and the Orange are deep at the RB position led by Moe Neal and junior Abdul Adams. The WR corps is pretty good and could be great if ex Michigan State wideout Trishton Jackson pans out.
DeVito may have to get things going early if Liberty comes out firing at home.
While Liberty has their top two sacks guys back their D-line is a concern. The Orange may run the ball because of that and if they are successful doing so they should be in good shape.
Our Prediction
Liberty may be dangerous but do not have nearly the talent that Syracuse does. Also, the Orange are 9-3 ATS in their last 12 home games.
The Flames will not flame out in this game and they will keep it close for a while but in the end the Orange will come through and win and cover the spread on the road.
 PICK:Syracuse -17.5