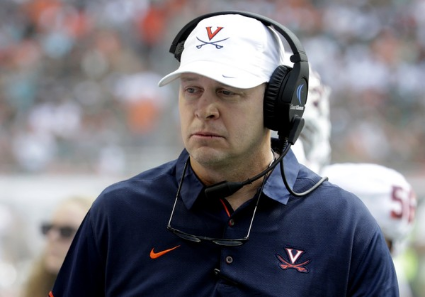 The Pitt Panthers host the Virginia Cavaliers in week 1 college football betting action. The Cavs are -2.5 point road favorites with a total of 57. Early betting action has favored the Cavs and we'd tend to agree with the bettors.
Playing a conference game this early in the season is never easy, mostly because these teams already know each other fairly well. Virginia is a road favorite, yet Pittsburgh has won the last four meetings, including last November's 23-13 victory in Charlottesville.
Dual Threat QB Leads the Way for Cavs
The main reason people are backing Virginia to win this game and to compete in the ACC Coastal division is because of dual-threat quarterback Bryce Perkins. He broke some records last season, throwing for 25 touchdowns and nine picks, as well as rushing for 923 yards and nine more touchdowns.
There are questions around him from running back to a couple new starters on the line, so success isn't given. PK Tier is expected to lead the backfield after only 26 carries last year. Perkins also lost his top target, but Hasise Dubois (52 receptions) and Joe Reed (25 rec.) are expected to step into bigger roles. Considering Virginia scored 13 points in this matchup at home last year, they won't be an easy team to back.
Pitt Had the Cavs Number Last Year
Pitt had their number, limiting Perkins to minus-7 rushing yards on 15 carries (sacks included). The question is how good Pittsburgh can be with so few returning starters on both sides of the ball, 10 in all.
The defense is led by stud safety Damar Hamlin and corner Dane Jackson, but all three linebackers are new. That may be the biggest problem in trying to limit the mobile Perkins. Still, Pat Narduzzi throttled Perkins and should know how to do that again, even with some new players.
The offensive side could be more problematic for the Panthers with only one starter back on the line. The hope is that new coordinator Mark Whipple (former UMass head coach) gets quarterback Kenny Pickett rolling.
The junior didn't do anything special last year, throwing for 12 touchdowns and six picks on 6.4 yards per attempt. He'll have to improve with a completely new running game as A.J. Davis and Todd Sibley take over at running back after combining for 33 carries last year. At least for Pickett, the return of receivers Taysir Mack and Maurice Ffrench should help for possible improvement.
Cavs Must Stop the Run
Defensively, Virginia is kind of in the same mold as Pitt, stacked at some positions, but questionable at others. Linebacker runs the UVA defense with four returning starters highlighted by Jordan Mack and Charles Snowden.
Corner Bryce Hall is also one of the best in the conference, but the secondary is fairly bare outside of him. The Hoos had good overall numbers last season, allowing 21.8 points per game, but they were gashed by the Pitt ground game when they met last year.
Helped by 41-yard and 75-yard touchdowns, the Panthers ran for 254 yards. Remove those big runs and Virginia probably would've won in an even lower scoring contest. That being the case, the under could be a reasonable bet in this game.
Bronco Mendenhall is a damn good football coach. He wins. Period. He enters his 4th year at Virginia and has lost 3 straight to Pitt. Virginia as a team has lost 4 straight to Pitt.
That means no one on the current Cavs roster has beaten the Panthers. Bronco has had spring and pre season camp to concentrate on figuring out a way to beat Pitt. The feeling here is, he'll likely accomplish that goal.
Our Pick – Virginia -2.5