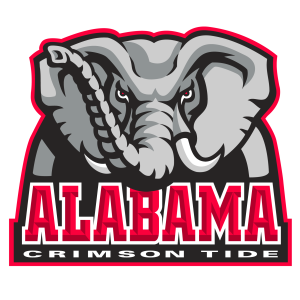 ***Score Prediction for every game below***
Things didn't go to plan for Alabama last year and it all kind of came crashing down in the regular-season finale against Auburn.
In addition to Tua Tagovailoa's injury, Alabama's defense wasn't its dominant self and then LSU went to another level.
The Crimson Tide are hoping to return things to normal and as usual, the talent will be there to do that. That's seen in the numbers as they had the third-best odds in the spring (at 5Dimes) at +550 to win it all.
Questions on Offensive Line
The biggest question comes on the offensive end where Mac Jones will compete with incoming freshman Bryce Young at quarterback. Given the weird offseason schedule, that decision probably won't be made until the fall.
Jones got some experience last year, playing well against Auburn and Michigan, but he may not provide the same kind of electricity as Young, who comes in as more of a dual-threat option.
Either way, stud running back Najee Harris is back after going for 1,224 yards and 13 touchdowns in his junior year. Since the offensive line is always one of the best, he has a decent chance to surpass those numbers.
Smith and Waddle Lead Receivers
Helping the quarterbacks even more are wide receivers DeVonta Smith (1,256 yards, 14 TDs) and Jaylen Waddle (560 yards, 6 TDs). Despite losing a couple of their guys from last year, Smith and Waddle will be enough in this offense and will again lead one of the top receiving corps in the nation.
The Tide lost a bunch of talent on the other side of the ball, but they also get plenty back. Linebackers Dylan Moses and Joshua McMillon should be good to go by the fall after both missed the majority of 2019 due to injury.
Up front, a slew of players got valuable experience last season as freshmen and that group is only expected to be a notch better. The unknown comes in the secondary and that group always tends to be the issue, though with the likes of Patrick Surtain and Josh Jobe still around, they at least have guys to ease the pressure.
Alabama had two losses last year, but it took down Michigan fairly easily in its bowl with a lot of guys who will start this season. The schedule is a bit more difficult than a year ago, but that probably won't matter again.
The last time they faced USC it was a bloodbath and getting the likes of Georgia, A&M and Auburn at home only helps. Assuming everything goes well in the first month, the Crimson Tide should be undefeated until an early November trip to LSU.
LSU Game Circled
That's the game that will be circled on the schedule and everyone in the country will be tuned in to. While it's on the road, Alabama is projected to be the better team this year even though both teams are turning to new quarterbacks.
If the Tide can stay healthy and get their quarterback battle figured out early, they should be looking at another stout season atop the standings, nothing new for Nick Saban.
Guys like Najee Harris, DeVonta Smith and Jaylen Waddle should lead the way for another dominant offense and if Dylan Moses can get back to health defensively, the Tide could be looking at another College Football Playoff.
Below is the schedule for 2020 with predicted scores from our model for every game.
One important caveat though. These predictions are based on data from the 2019 season with no tweaks for 2020.
That means they can only be used as a starting point. From that starting point, you'll have to take into consideration not only Alabama's potential for 2020 but their opponents as well.
2020 Alabama Crimson Tide Football Schedule with Predictions
Sept. 5 Alabama 43 vs. USC 24 (AT&T Stadium, Arlington)
Sept. 12 Alabama 65 vs. Georgia State 10
Sept. 19 Alabama 18 vs. Georgia 22
Sept. 26 Alabama 59 vs. Kent State 14
Oct. 3 Alabama 39 at Ole Miss 21
Oct. 10 Alabama 56 at Arkansas 17
Oct. 17 Alabama 44 vs. Mississippi State 21
Oct. 24 Alabama 31 at Tennessee 18
Nov. 7 Alabama 28 at LSU 40
Nov. 14 Alabama vs. UT Martin
Nov. 21 Alabama 32 vs. Texas A&M 24
Nov. 28 Alabama 28 vs. Auburn 26