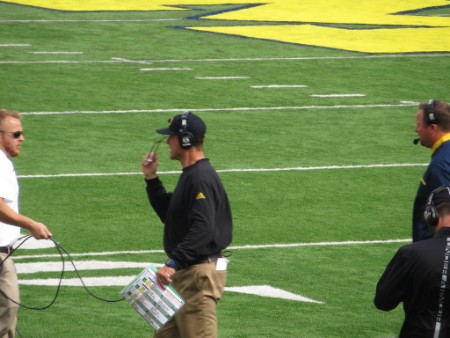 Michigan will host Army in week 2 college football betting action and the Wolverines are -23 point favorites with a total of 46.5 at 5 dimes sportsbook.
Bettors got a taste of two possibly overrated teams in the first week and now this matchup may depend on who is more overrated. Michigan struggled to fully separate itself from Middle Tennessee in a 40-21 win, while Army needed a late touchdown to beat Rice despite being a three-touchdown favorite. 
The over/under is low because that's how Army wants the game to go. The problem is that the Black Knights may not be able to contain Michigan after they let Rice rush for 181 yards on 6.0 yards per carry. If that run defense doesn't improve, it could be a long day for the underdog because Michigan has the bodies to exploit a bad defense.
Can Army Stop Michigan Rushing Game?
While Shea Patterson didn't have the greatest opener, averaging 7.0 yards per attempt, Michigan's rushing attack was still solid going for 233 yards on 5.2 yards per carry. Army had one of the best rush defenses in the country last season, but a lot of those guys are gone and that could be a problem in this game.
Even if Patterson struggles again through the air, the Wolverines still have a slew of running backs to give the ball to. 
The Black Knights are going to use the triple option whether it works or not, and after averaging 4.1 yards per carry against Rice, there's a decent chance it doesn't work. It also doesn't help Army that Michigan faced the Air Force triple option two years ago and thwarted it, outside of a somewhat fluky 64-yard touchdown pass.
All up to Kelvin Hopkins for Cadets
A lot of the players are new, but it's somewhat relevant since a lot of the coaches are still around for Michigan. Army is hoping quarterback Kelvin Hopkins can provide the difference in this game because he at least has opened it up at times in this offense, throwing for more than 120 yards three times last season. Of course, that's kind of wishful thinking against one of the best secondaries in the country. 
Michigan is a popular team and will get money no matter what happened in the previous game, but if Army's defense can hold its ground just a bit, covering this spread isn't out of the cards for the underdog.
The last time Army played a team as good as Michigan, its defense came through and took Oklahoma to overtime. That may be a tough ask, especially since Michigan's defense is better, but it's possible to keep this game close and cover even if it struggles to move the ball.
The Black Knights are 7-0-1 ATS in their last eight against teams with a winning record, while the Wolverines have failed to cover in their last five overall.
Our Pick – Army +23