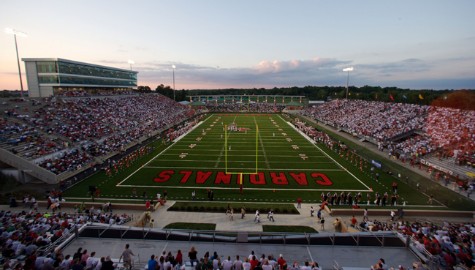 Ball State football is listed at odds of 70 to 1 to win the MAC in 2019 to go along with a season win total betting line of over or under 4 wins.
Things haven't gone to plan for Mike Neu in his first few seasons in charge at Ball State. While he doubled the win total to four last season, it was still a disappointment even with injuries once again being a problem.
Due to unexpected players getting more playing time, the Cardinals have a lot of experience returning for a bowl-hopeful 2019. 
QB and RB Skip Town
Expectations dipped once quarterback Riley Neal and running back James Gilbert transferred in the offseason, but it's not like those guys were always healthy or complete game changers.
Former backup Drew Plitt is the likely starter at quarterback, though his 6 TDs and 8 INTs from last year leave a lot to be desired. He'll have to win the job over redshirt freshman John Paddock.
Either way, the offense gets a nice boost from a line that returns all five starters. That should help the quarterback find his wide outs in Riley Miller (878 yards, 7 TDs), Justin Hall (69 receptions) and Yo'Heinz Tyler.
Despite having a lackluster offense, BSU's receivers are some of the best in the conference.
While they've relied more on the pass, the ground game has been decent and that should continue behind an experienced line. Carries will likely be split between Malik Dunner, Caleb Huntley and DII grad transfer Walter Fletcher. 
2nd Year with New Defensive Scheme
To have a chance at a bowl, the defense has to be better after allowing 239.8 rushing yards and 32.4 points per game. Those numbers are an improvement from 2017, but more improvement is needed this season in the second year of the 3-4 alignment. The experience and depth is there, it's a matter of putting everything together.
The strength of the defense starts at outside linebacker with Ray Wilborn and Christian Albright, while Jacob White and Jaylin Thomas also return in the middle.
The secondary is respectable with safeties Brett Anderson and Bryce Cosby leading the way. The question for this defense remains up front. The returning players are there, but the line is small and was run over by most opponents last season.
Over 4 Wins May Have Some Value
It'd be nice if Ball State could steal a win in the opener against Indiana, but it lost that matchup 38-10 last year. If things go well, this team will enter MAC play with two wins, though beating FAU probably shouldn't be expected, either.
That means the Cardinals need five wins in conference play and that's a bit too much to ask for. Road games at NIU, EMU and WMU are all likely losses, while the same goes for playing at home against Toledo and Ohio.
The pieces are there for this team to make a small run and at least stay competitive in the MAC, but due to schedule and recent history, there's no reason to think the Cardinals will make a bowl or surpass four wins this season.
Two of Ball States early opponents are Indiana and NC State. You can read their season betting previews by using the links in the schedule below.
2019 Ball State Cardinals Football Schedule
Aug. 31 vs. Indiana (opened +16.5) (Lucas Oil Stadium, Indianapolis)
Sept. 7 vs. Fordham
Sept. 14 vs. Florida Atlantic
Sept. 21 at NC State
Oct. 5 at Northern Illinois
Oct. 12 at Eastern Michigan
Oct. 19 vs. Toledo
Oct. 26 vs. Ohio
Nov. 5 at Western Michigan
Nov. 16 vs. Central Michigan
Nov. 23 at Kent State
Nov. 29 vs. Miami (OH)