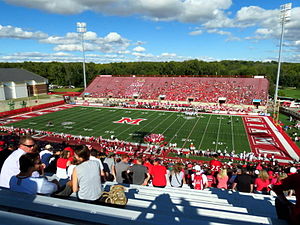 Vegas has set the odds for the Miami Ohio RedHawks season win total for 2019 at 6 with heavy early action on the under. Miami Ohio is also listed at odds of 12 to 1 to win the MAC.
Miami Ohio lost all four non-conference games last year, yet still finished near the top of the MAC standings with only two conference losses en route to a 6-6 record and no bowl.
Chuck Martin has brought the RedHawks from bad to mediocre, but can't seem to get over the hump with a 7-20 record in one-possession games (via SB Nation). That'll likely continue in 2019 with a new quarterback.
Offense Likely Still Mediocre with New QB
The offense wasn't good last year, averaging 28.1 points per game and the implementation of a new quarterback probably won't lead to improvement. Going into the fall, Jackson Williamson and A.J. Mayer will battle for the job, though true freshman Brett Gabbert could also steal some snaps if he can show anything once he's on campus.
Whoever starts will have a decent receiving corps led by Jack Sorenson (742 yards) and Luke Mayock (319 yards), as well as tight end Andrew Homer (16 receptions).
The running backs are new, but that was last year's strong suit and could be again with four linemen having starting experience.
The backs will likely be a mix of do-it-all Maurice Thomas (61 carries), Jaylon Bester (34 carries) and Davion Johnson (33 carries).
Defense to Keep RedHawks Competitive
The defense should keep the RedHawks competitive even with a few high-end starters gone, including stud linebacker Brad Koenig. Nose tackle Doug Costin is one of the best in the conference, while new linebackers Myles Reid and Ryan McWood have at least been in the system for a few years.
That should keep the front six from falling apart in the 4-2-5 scheme, especially with a decent core returning in the secondary. Corner Zedrick Raymond and safety Mike Brown are the names to know and both could be all-conference performers by the end of the season. The question is if that's enough to repeat last year's 25.5 points per game allowed.
Another 6 Win Season for Miami Ohio
At the end of the day, nothing is expected to change for Miami with another six or so wins a likely finish. It'll grab at least one non-conference win (Tenn. Tech), but finding more than five MAC wins on the schedule is unlikely.
The RedHawks draw WMU and NIU out of the West division, which will be tough to overcome, especially in addition to games against Ohio and Buffalo. There's a chance they only manage four conference wins and again miss out on a bowl.
This team has continually been mediocre the last three years and that'll likely be the case in 2019. Betting on a bowl will be difficult with a new quarterback, but similar to last year, six wins are possible if Martin can get his team to win a close game or two.  
Read some previews on Miami Ohio's early opponents below!
2019 Miami Ohio RedHawks Football Schedule
Aug. 31 at Iowa (opened +21.5)
Sept. 7 vs. Tennessee Tech
Sept. 14 at Cincinnati
Sept. 21 at Ohio State
Sept. 28 vs. Buffalo
Oct. 12 at Western Michigan
Oct. 19 vs. Northern Illinois
Oct. 26 at Kent State
Nov. 6 at Ohio
Nov. 13 vs. Bowling Green
Nov. 20 vs. Akron
Nov. 29 at Ball State