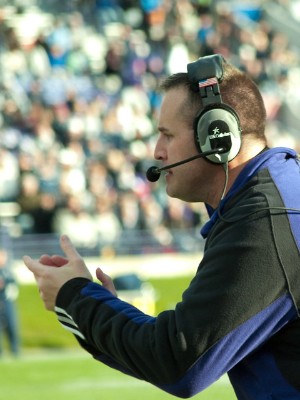 Northwestern heads west to take on Stanford in week 1 college football betting action. The Cardinal are 6.5 point favorites with a total of 49.
Northwestern versus Stanford is kind of the perfect matchup between conferences. Both are consistently good with a focus on defense, yet neither has been able to do more than that in recent seasons.
Sure, the Wildcats made the Big Ten title game last year, but still finished 9-5 overall and lost to Akron early in the season. Losing early games has been a problem for Northwestern through the years, though that's not the only reason Stanford is a -6.5 point home favorite with an over/under of 49.
Must Win for Stanford?
The difference between these two teams is that this is almost a must-win for the Cardinal. A brutal schedule will likely keep them from competing at the top of the Pac-12 standings and a win here is needed.
Following this game, they travel to USC and UCF before hosting Oregon and Washington. While quarterback K.J. Costello is still there after tossing 29 touchdowns and 11 interceptions, a lot of other pieces are unknown.
The line struggled last year and that could be a problem again with only one returning full-time starter in the mix. Cameron Scarlett takes over at running back after going for 330 yards last year, but if Bryce Love couldn't run behind this line, what can he do?
Tight end Colby Parkinson (485 yards, 7 TDs) is the leading returning receiver while their wide receivers are big and young. Still, this offense averaged 28.5 points per game last year and won't have an easy time against Northwestern, who allowed 23.5 points. 
Northwestern Was in Every Game 
The Wildcats struggled against any good offense last season, but often held their ground against mediocre ones like Stanford's. For example, they showed up in the 31-20 bowl win against Utah, as well as numerous Big Ten wins. Linebackers Paddy Fisher and Blake Gallagher lead the group and there are pieces in the front and back for possible progression moving forward.
The issue is that Northwestern didn't know its starting quarterback a couple weeks before the game. Clemson transfer Hunter Johnson and TJ Green come with high pedigrees, but neither has seen much time at the collegiate level.
The Wildcats averaged just 3.1 yards per carry as a team last year and that was with senior quarterback Clayton Thorson. They'll likely start this game by force feeding running backs Isaiah Bowser and John Moten, and if that doesn't work, the new quarterback will be thrown to the wolves.
New Faces on Defense for Cardinal
Stanford doesn't have its elite defense of a few years ago, but still allowed a solid 23.8 points per game last year. The problem is that a lot of new faces are in the starting lineup and the strength may be in the secondary with cornerback Paulson Adobo.
If the Cardinal can't stop NW's rushing attack, this game will likely come down to the fourth quarter and what Costello can do. Stanford gets the edge because it's at home with an experienced quarterback, but Northwestern has the team to compete and stay within seven points.
These two teams are similar in terms of players lost and returning. Had they played at the end of last season our model, using the last 7 games of data, would have had Stanford winning by 1.
Our Pick – Northwestern +6.5
Read our season previews for Northwestern and Stanford