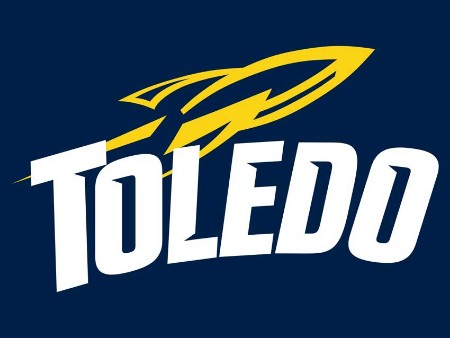 Toledo Football is favored to win the MAC in 2019 with odds of +270. However, early bettors aren't so sure. The Rockets season win total betting line was set at 8 and drew heavy action on the under.
Toledo's drop off in 2018 wasn't too surprising, but it was still only its second time in nine seasons that it won fewer than eight games. That's a tough stat to swallow for head coach Jason Candle, who reached double-digit wins in his first two seasons in charge.
Toledo Offense Still Explosive
The good news for Toledo is that it shouldn't take a step back offensively after averaging 40.4 points per game. It thrived on explosive plays and that'll be the case again no matter who starts at quarterback.
Mitchell Guadagni (13 TDs, 3 INTs, 428 rushing yards) will likely get first crack after getting injured last year, while Eli Peters (15 TDs, 7 INTs) is a viable backup.
Either way, the Rockets will lean heavily on the ground game between Bryant Koback (875 yards, 13 TDs) and Shakif Seymour (526 yards, 5 TDs).
With three senior starters back on the line, reaching 5.3 yards per carry as a team again is also possible.
The question is what happens in the passing game with an unknown receiving corps led by Desmond Phillips (26 receptions) and tight end Reggie Gilliam (4 receptions, 3 TDs). 
Defense May Not Matter
The main reason Toledo wasn't better last year was because of an inconsistent defense that allowed 30.2 points per contest. To have a chance at winning the conference, this group has to be better, especially up front where it was often pushed around.
While end Jamal Hines is good at getting to the quarterback, he's smaller and the Rockets need more help from guys like Nate Childress up the middle.
Linebacker returns some experience with a couple seniors, but neither Jordan Fisher nor Erik Davis were full-time starters last year.
The secondary has to improve the most with three of five returning starters, including safeties DeDarallo Blue and Kahlil Robinson.
8 Wins Possible, But…
Toledo could win the MAC, but it could also lose three of its first four games due to schedule. If that's the case, surpassing its over/under of eight will be difficult, especially with the cross-division game at Buffalo.
Then again, the Rockets could win their other three MAC road games and their next biggest competition will be home against WMU, EMU and NIU. With two experienced quarterbacks and a stout rushing attacking, this team will score enough points to contend near the top of the standings.
There isn't one team that stands out talent-wise in the MAC and if Toledo's offense can get going like last year, scoring may be enough to win the West, even if the defense doesn't improve.
Toledo plays Kentucky and Colorado State in the early going. Read betting previews for both of those teams using the links in the schedule below.
2019 Toledo Rockets Football Schedule
Aug. 31 at Kentucky (opened +12)
Sept. 14 vs. Murray State
Sept. 21 at Colorado State
Sept. 28 vs. BYU
Oct. 5 vs. Western Michigan
Oct. 12 at Bowling Green
Oct. 19 at Ball State
Oct. 26 vs. Eastern Michigan
Nov. 5 vs. Kent State
Nov. 13 vs. Northern Illinois
Nov. 20 at Buffalo
Nov. 29 at Central Michigan