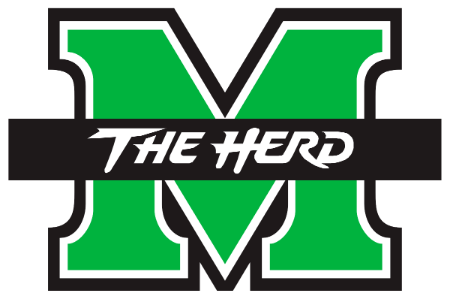 Bettors are backing Marshall football to have a successful 2019 season, as seen by their actions at the betting window. The Thundering Herd opened with a season win total betting line of over/under 7 and early bettors quickly bet the over. That number is now 7.5 and the over is still seeing action.
Marshall surpassed expectations last year with a freshman quarterback, which means better things are ahead for head coach Doc Holliday, at least that's the hope.
The Thundering Herd were competitive in every game and while they didn't make the C-USA title game, the win against USF in the Gasparilla Bowl made up for it.
Talented QB Leads the Offense
The addition of OC Tim Cramsey helped, but the injury to quarterback Isaiah Green derailed what could've been a better season. Green still managed a solid 7.3 yards per attempt to go with 15 touchdowns and 10 interceptions, impressive numbers for a freshman.
While he loses his top receivers, almost everyone else returns. Running backs Tyler King (655 yards) and Brenden Knox (485 yards), both of whom averaged at least 5.8 yards per carry, will carry the load behind what could be a better line.
Three starters are back to go with a few others with experience and a former Florida State tackle. The question is if the receivers can help Green get this offense to another level. With Tyre Brady gone, everyone else has to step up from seniors Obi Obialo (473 yards, 4 TDs) and Artie Henry (15 receptions) to tight ends Armani Levias (25 rec.) and Xavier Gaines. Kentucky transfer Tavin Richardson is also expected to be in the mix.
Defense Likely Not As Good
The problem is that Marshall probably can't repeat last year's defensive numbers, allowing 103.9 rushing yards and 22 points per game. New coordinator Brad Lambert isn't exactly an improvement, but he knows the conference after being head coach at Charlotte since 2011.
While depth is a question, there's still talent to work with as Ty Tyler moved inside to tackle (joining Channing Hames) to allow sophomores Darius Hodge and Koby Cumberlander more time on the edges.
Linebacker Omari Cobb fills one of the spots in the 4-2-5 scheme and that may be enough with a good secondary. Both corners are seniors led by standout Chris Jackson, while Nazeeh Johnson and Brandon Drayton also provide experience at safety.
A lot has been made of Marshall's inconsistencies, but it was fairly competitive against NC State and Virginia Tech last year and had a chance to win both games it lost in C-USA.
C-USA Title Game A Possibility
The non-conference schedule may be a little harder this season, but the Herd still should get at least two wins as long as they can beat one of Ohio or Cincinnati, both at home.
They have a manageable conference schedule, drawing a home game against La. Tech and road game against Rice out of the West. To win the East, they'll likely need to beat either MTSU or FAU on the road, though the home finale against FIU could determine who goes to the title game.
With another year of Green behind a good offensive line, the Herd have a chance to hit eight or nine wins in the regular season and if the defense doesn't take a major step back, the title game will be waiting for them.
You can read previews of Marshall's first few opponents below using the links in the schedule.
2019 Marshall Thundering Herd Football Schedule
Aug. 31 vs. VMI
Sept. 6 at Boise State (opened +10)
Sept. 14 vs. Ohio
Sept. 28 vs. Cincinnati
Oct. 5 at Middle Tennessee
Oct. 12 vs. Old Dominion
Oct. 18 at Florida Atlantic
Oct. 26 vs. Western Kentucky
Nov. 2 at Rice
Nov. 15 vs. Louisiana Tech
Nov. 23 at Charlotte
Nov. 30 vs. Florida International