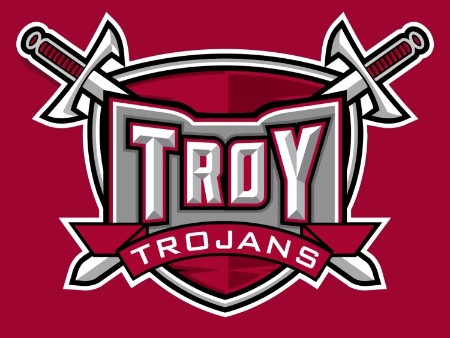 The season win total betting line for Troy football opened at over or under 7 wins for 2019. Bettors quickly took a liking to the over, which pushed that number to where it currently sits at 7.5.
Troy is also listed at 5 to 1 odds to win the Sun Belt Conference in 2019. That makes them the 3rd choice behind App State and Arkansas State.
The biggest disappointment for Troy last season was that it couldn't get over the Appalachian State hump, finishing 10-3 overall with a bowl win over Buffalo, but still didn't make the Sun Belt title game.
Now with both teams having new coaches, the division (and conference) is a toss up. The Trojans tabbed Chip Lindsey as head coach, who comes over from being offensive coordinator at Auburn and Arizona State the last few seasons.
Troy Loses QB to Kentucky
Maybe the most unfortunate part to Troy's summer was that it lost quarterback Sawyer Smith, who decided to transfer to Kentucky where he might be less likely to play.
That at least makes the decision easier for Lindsey as Kaleb Barker is the hands-down starting quarterback and is "100 percent" recovered from a torn ACL. In the first six games last year, he lit up the scoreboard with 13 total touchdowns (10 passing) on 73.0% completion.
The problem is that most of those numbers came against bad competition as he managed one touchdown, two interceptions and was sacked eight times against Nebraska and Boise State.
Of course, Barker may not play a defense as good as either of those this season. He also gets back what could be the best line in the conference with four full-time starters returning.
Because of that, the rushing attack should be just as good after averaging 4.7 yards per carry with B.J. Smith (1,186 yards, 13 TDs) and Jabir Daughtry-Frye (371 yards) still around.
Barker will have to find new targets, though, as all of the receivers are inexperienced with Tray Eafford (24 receptions) the leading returnee.
Defense to Remain Elite?
Troy will try and keep up the tradition of being elite defensively after allowing 346 yards and 21.2 points per game last year. Brandon Hall takes over as DC after serving as the LBs coach last year and co-DC at Jacksonville State before that.
Even with a lot of studs gone, the defense remains loaded due to recruiting. Ends Jarvis Hayes and Marcus Webb are two of the best at getting to the QB in the Sun Belt, while sophomore linebacker Carlton Martial is in his second year of leading the defense.
The secondary also brings back a few playmakers in corner Terence Dunlap, nickel Tyler Murray and safety Melvin Tyus. A lot of guys are gone, but this defense will still be one of the best.
Betting Over 7.5 Wins Still Has Value
Reaching the Sun Belt title game will be possible with Barker at quarterback, but also an easier non-conference slate could lead to another nine or 10 wins. Sure, that's a lot to ask from a new coaching staff and quarterback coming off a torn ACL, but that's what this team does.
The Trojans open with four of six games at home, and drawing ASU, App. State and Ga. Southern at home should help in their quest for a title. That being the case, all of their road games in conference play are winnable with Louisiana the only projected bowl team.
Even if they only win two non-conference games, eight overall wins are on the table thanks to experience at quarterback and a fairly stocked defense.
Additional previews linked below under schedule
2019 Troy Trojans Football Schedule
Aug. 31 vs. Campbell
Sept. 14 vs. Southern Miss
Sept. 21 at Akron
Sept. 28 vs. Arkansas State
Oct. 5 at Missouri
Oct. 16 vs. South Alabama (opened -16.5)
Oct. 26 at Georgia State
Nov. 2 at Coastal Carolina
Nov. 9 vs. Georgia Southern
Nov. 16 at Texas State
Nov. 23 at Louisiana
Nov. 30 vs. Appalachian State