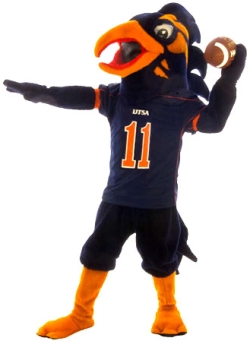 The UTSA Roadrunners football team has some improving to do on both sides of the ball. Their over/under season win total betting line opened at 2.5 wins, though early money was on the over.
UTSA was supposed to be worse last year, but going 3-9 wasn't expected for head coach Frank Wilson, especially after 12 wins over his first two years.
UTSA's offense completely fell off the map last year, finishing last in the country with 247 yards per game and close to last at 14.2 points.
Experienced Offensive Line Adds Hope
In addition to moving Jeff Kastl to OC (former passing game coordinator and WRs coach), they also get back quarterback Frank Harris from an ACL injury. Harris will compete with last year's starter Cordale Grundy (4.5 yards per attempt), though a few other guys could steal time, including former LSU QB Lowell Narcisse.
At the least, the quarterback should have a better line to work behind as seven players have starting experience and some juco transfers were added for depth.
That'll also hopefully lead to better numbers for running backs B.J. Daniels (3.7 ypc) and Brenden Brady.
Receiver is mostly unknown with Tykee Ogle-Kellogg (14 receptions), Tariq Woolen (15 rec.) and Sheldon Jones (10 rec.) set for starting roles.
Two New Linebackers
The defense wasn't helped by the atrocious offense last year, but allowing 275.3 passing yards and 31.2 points per game isn't good. The question is if the experience in the front and back ends can make up for two new linebackers in the 4-2-5 scheme.
Ends Lorenzo Dantzler and Jarrod Carter-McLin provide a nice presence on the line, while three returning starting corners, led by Cassius Grady, help round out the defense.
If Virginia grad transfer Dominic Sheppard can step immediately into the open linebacker spot and make a difference, that'd also be huge.
This group may not overpower anyone, but as long as the offense holds onto the ball longer, the defense should have better overall numbers.
Hard to Find Wins on Schedule
UTSA once again has a difficult non-conference slate that will only feature one win (Incarnate Word). The problem is that it only has one favorable game at home (Rice) while the other three are against projected bowl teams in UAB, USM and FAU.
That's not going to help the Roadrunners reach the over unless their quarterback comes through or the defense gets to another level despite having a new linebacking corps.
Sure, they could win a couple road games against UTEP and ODU, but that's banking on a road upset. This team fell off last year and it may take another season for it to turn things back around.
An experienced offensive line and possibly new quarterback will help, but that'll only get you so far with a lot of unknowns under center.
2019 UTSA Roadrunners Football Schedule
Aug. 31 vs. Incarnate Word
Sept. 7 at Baylor
Sept. 14 vs. Army
Sept. 21 at North Texas
Oct. 5 at UTEP
Oct. 12 vs. UAB
Oct. 19 vs. Rice
Nov. 2 at Texas A&M
Nov. 9 at Old Dominion
Nov. 16 vs. Southern Miss
Nov. 23 vs. Florida Atlantic
Nov. 30 at Louisiana Tech