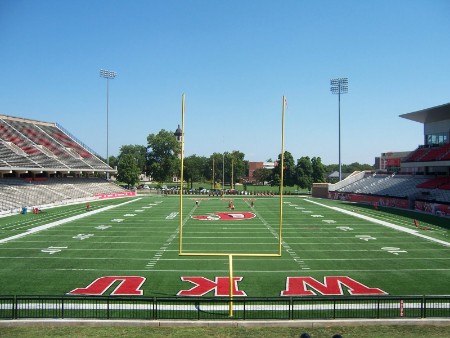 According to the Odds it looks like Western Kentucky will be a fringe bowl game contender. The Hilltoppers current win total betting line is set at over or under 5 wins. The over likely gets them a bowl game. The under gets them home for the holidays.
Head coach Mike Sanford lasted just two years at Western Kentucky, taking 2016's 11-win team to a 3-9 finish last season.
Enter Tyson Helton, the former WKU coordinator, who most recently spent a year at Tennessee. He inherits a decent amount of returning talent, which could help the Hilltoppers reach a bowl as seen in their opening over/under of 5 wins.
New offensive coordinator Bryan Ellis is also a former WKU coach from the good days and his goal is to revive the scoring and electricity. Deciding on a quarterback is the first step with the best options being one of last year's starters Steven Duncan (9 TDs, 7 INTs) and Arkansas transfer Ty Storey.
"O" Line Returns 5 Starters
While quarterback could be a question all season, every other position is not. The line returns all five starters from a decent group and only two of them are seniors. That's a huge plus for the QBs, but also running backs Joshua Samuel (641 yards, 5.3 ypc), Gino Appleberry and Jakairi Moses, who missed all of 2018 due to injury.
The returning receivers are also intriguing as Lucky Jackson (563 yards, 4 TDs) and Quin Jernighan (426 yards) are still there, but also playmaker Jacquez Sloan (16.0 yards per reception) and tight end Kyle Fourtenbary (36 receptions).
Defense Lacks
The defense lacks a lot of pieces, but maybe most important is that it won't be a new scheme with Clayton White still the coordinator. He'll run a 4-2-5 scheme that held opponents to a decent 27.8 points per game last year.
Improvement should be possible if the offense can hold onto the ball longer and the returning starters gel a little more. DeAngelo Malone (six sacks) and Juwuan Jones (five sacks) are viable playmakers at end while senior tackle Jaylon George plugs holes in the middle.
The biggest question is at linebacker where Eli Brown steps into a starting role with little experience outside of him. If Brown can return healthy from a foot injury that kept him out of the spring, this defense could be solid because the secondary is also in a good spot led by nickel Ta'Corian Darden and safety Devon Key. 
Western Kentucky 50/50 to Make Bowl Game
Western Kentucky fell off the map under Sanford, but he still brought in decent recruiting classes and that should help Helton. The schedule is also manageable, though winning two non-conference games will be key and that means beating either Louisville or Army.
With only one non-conference win, the Hilltoppers need an improbable five C-USA wins to make a bowl, which is a lot to ask after going 2-6 in the conference last year.
The problem is that they get USM and UAB out of the West division, two teams projected to go to a bowl. The Hilltoppers should be better than a year ago, but they'll need numerous upsets to reach six wins and that's hard to bet on. Then again, if quarterback comes through in this offense, that's a do-able task.  
You can read betting previews for several of wkty's opponents below in the schedule
2019 Western Kentucky Hilltoppers Football Schedule
Aug. 29 vs. Central Arkansas
Sept. 7 at Florida International
Sept. 14 vs. Louisville (Nissan Stadium, Nashville)
Sept. 28 vs. UAB
Oct. 5 at Old Dominion
Oct. 12 vs. Army
Oct. 19 vs. Charlotte
Oct. 26 at Marshall
Nov. 2 vs. Florida Atlantic
Nov. 9 at Arkansas
Nov. 23 at Southern Miss
Nov. 30 vs. Middle Tennessee